By Matt Bender
Wind-torn waves lazily fizzle towards shore. Various, oversize planks comprise a frothing flotilla, with a singular shortboard thrown in the mix. On it, a lanky local boy with sun-bleached locks flies along stylishly, gleaning any and all speed available from the most acute of sections. It's unmistakably Lohé La'anui. The remarkable regular foot puts his performance thruster through the paces as he practices a surprisingly mature repertoire of carves and gaffs wherever pockets present themselves. Physique and form don't fit: the gangly, growing body says generation air reverse to the flats, but Lohé takes a more traditional approach, paying noticeable tribute to his favorites in Parko and Slater.
It's a sub-par day at home for the RVCA, OAM, Matunas, Surfboards Makaha, Quality Surfboards ambassador, but the 14-year-old's approach is an exciting display of champion form.
He's making his dad proud here at White Plains Beach, in southwest Oahu. Lifeguard captain Marvin La'anui catches intermittent glimpses of his Hawaiian son as he rides waves at a near-constant rate.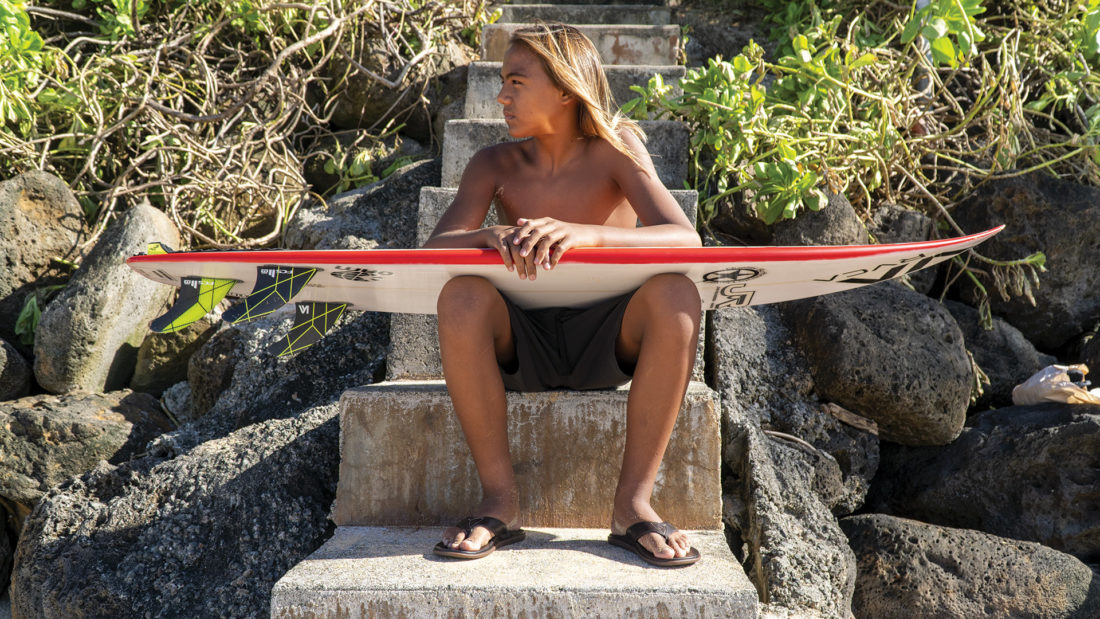 Solid as a surfer—even having recently won a grom comp at his homebreak—Lohé surprisingly describes himself as a "singer who surfs", and you might call him a prodigy of both artistic disciplines. A look at his Instagram (@lohemusic) reveals a plurality of exceptional talent, with emphasis placed on the "m" word. When asked if he aspires to charge bigger waves, he hesitates and then replies with a smile "I like big waves, but…well, I want to charge the stage".
Is his adolescent focus failing him? Actually, Lohé's dedication to music has realistically turned into another potential career, and at an age where most keiki are just trying to figure out even one thing they'e really into, besides playing Fortnite.
With a bell-like voice that rings true under pressure, plus a penchant for playing guitar, ukulele, and keyboard, this young performer is wise to begin pursuing a path towards professional musicianship. In fact, following his heart in this creative pastime has already earned him guest appearances at shows at the Hyatt in Honolulu and even a live solo act on KHON news.
How does this ambitious grom—who's also somewhat reserved, even a bit shy—deal with the inherent pressure and anxiety? "I get nervous, but I don't let the nerves bother me if I know my lyrics and I've put in the work to prepare…It's like a surf contest. I think about the way it's going to be, and even what could go wrong, and prepare my mind." So, putting in the hard yards is key? "Yeah, if I'm winging it, that's when the nerves can get to me…[my first show] I didn't even know what to do with the mic. I accidentally unplugged it [but quickly plugged it back in] mid-show (laughs)…it's all a learning experience."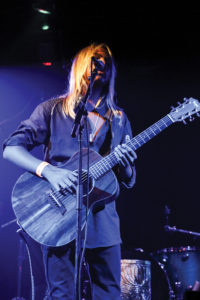 He's learning quickly. Six months playing guitar, two years or so on the ukulele, and the emerging artist is already doing shows on live tv.
But Lohé is quick to downplay his abilities. "I just play chords to sing over," he humbly asserts of his technique. This is easier said than done, playing right in the pocket, alongside a simultaneously sung vocal part.
So far his official material is—as categorized on Apple Music—"pop". That's not what you might expect from a surfer, which is refreshing. The powerful, alto-perhaps-soon-to-be-tenor singer phrases vocal parts eloquently, and says he draws inspiration from hip-hop, Bruno Mars, even Frank Sinatra. He also saw Def Leppard recently, and his mom and dad have seen "everybody", including rock legends like Metallica and Robert Plant. He hardly acknowledges any island/reggae or Hawaiian influence, but these are apparent in his act and almost go without saying here on Oahu. With plenty breadth to his body of influence and a unique tonal profile, it will be entertaining to see what styles he embraces most.
Music is in La'anui's DNA.. His great grandmother sang professionally, and his mom, Trisha, is an avid enthusiast. It's a legacy he's stoked to carry on—but not necessarily for a career, he clarifies. "I just want to follow my passion. I'm thinking more about my lyrics, the next show, the next goal, which I'll write on a whiteboard, than I am about a career right now."
What's his drive then? "I love to share energy. You can make a connection with somebody. You might make them super happy, or even maybe make them cry their eyes out, but you're sharing energy—a feeling…that's my favorite thing about music".
Right now, Lohé is psyching on his next big thing, a music video expected to drop in January entitled "Looking for the Light". He co-wrote the song and sings the (challenging) chorus. "My voice is starting to change, so I have to keep practicing my high range in order to be able to hit those tones."
Even if Lohé does lose some of his high notes as he matures—no worries—a voice like his comes from a gifted, finely tuned ear more than anything. Plus, this guy has high range to spare. HIs heart also seems to be in the right place, a factor that guides careers towards success. This intrepid entertainer surely has an interesting journey ahead. Expect impressive showings both in the surf and in the spotlight on stage in the future of the multitalented Lohé La'anui.
To listen to Lohe and find out more, including upcoming gigs check out Lohemusic.com