By Kyveli Diener
DOB: 12/20/03
Hometown: Haleiwa, HI
Sponsors: Meeks Surfboards, Pakaloha Bikinis, FlHi Girls TV, Chance 'Em, Tools Surfing
Angelina Yossa is as polite and sweet as she is unapologetically self-assured. Since winning her first contest at the age of six in her home break of Haleiwa, so had no doubts that the life of a traveling competitive surfer was meant for her. As her skills improved, so did her opportunities: she was just 10 years old when a chance conversation with big wave charger Betty Depolito at the Triple Crown landed her her first sponsor, Depolito's local women's surf show FlHi Girls TV. But even before companies wanted to give Yossa money for her surfing, she was earning it herself by baking endless batches of cookies to finance surf trips away from Oahu. The Waialua High School sophomore is shooting up regional junior rankings anywhere she competes, and even if she can't find the exact words to describe how she's pulling it off, her powerful surfing is making the message loud and clear.
Tell me about how you first learned to surf — do you remember your first wave?
"I have a twin sister [who's older by 27 minutes], so my mom would take us out on her longboard when we were three years old. One of us would wait on the beach and take turns surfing Haleiwa over to the side, like over at Peaks. We had this favorite longboard and she would take us out with little floaties on our arms. I actually don't remember the very first time [I stood up], but I do remember some times just being on the board with her and catching waves with her, but that very first time is just a blur."
How early did you know that pro surfing was the career for you?
"I actually won my first contest when I was six years old at the Menehune. It was in the 4-6 division, boy and girl. After that I was like, 'This is what I want to do.'"
What is it about competitive surfing that really works with your personality?
"With competing, I've always just…I don't know how to word this…it's just a way for me to be myself and represent who I am without having to talk. I let my surfing do the talking."
What has been you biggest recent achievement that you're proud of?
"Not too recent, but back in April I placed 2nd in the HASA State Championships. I'm also ranked #1 in two divisions for HASA [girls 14-15 and 16-17]. Another one is that I went to Salt Creek NSSA for my high school and I placed 4th in Varsity Women's."
What you be if you weren't pro surfer?
"I think I would always have to do something around pro surfing or the beach. But besides that I think being a doctor or a physical therapist would be a really good career."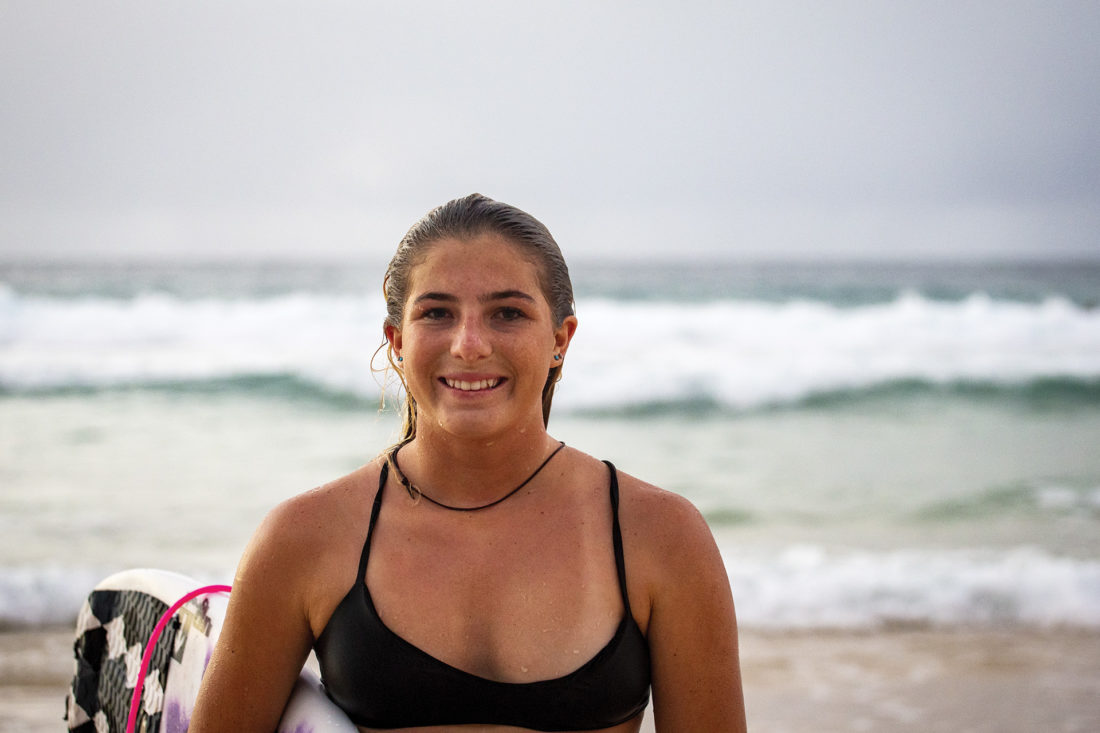 What are some of your other favorite hobbies besides surfing?
"I like to run, distance mostly. I like to cook and I like to bake, actually. I used to sell cookies when I was little to fundraise for my contests and stuff. I really like to make chocolate chip cookies and throw a little cinnamon in there."
That's great! Where have you traveled on money raised by selling cookies?
"I went to El Salvador when I was 10, and I would go to California and I'd go outer-island, like to Maui or Kauai and the Big Island."
What do you really remember about that first international trip that's stayed with you?
"It was my first time being to a third-world country, and I met a lot of cool people down there. We would go surf all day and then go eat and then surf again. It was a really great experience for a 10-year-old."
How has traveling since such a young age helped shape you into the international pro surfer you are today?
"It's really helped me understand more things — I've gotten to experience people's culture and how they do things in different places. It's really eye-opening too because you see a lot of people who are less fortunate but they're such happy people. It's a really good thing to experience."
What other countries have you been to?
"I've been to Tahiti, Nicaragua, El Salvador, and I've been to Mexico a couple times. I really like Mexico, but I actually think Tahiti was one of my favorite places. I went down last March for the [Papra Pro Vahine Junior Tahiti] and [Papara Pro Vahine Open Tahiti] QS. I think I finished 5th in the QS and equal 7th in Juniors. It was amazing."
What other languages do you speak?
"I speak a little bit of Spanish and I would like to become fluent in it. I think French is a pretty cool language and I would like to learn it some day."
Where's your favorite break on Oahu, and where's your favorite break outside Oahu?
"I grew up surfing Haleiwa, so that's one of my favorite spots. I think my favorite break that's not here would be Popoyo in Nicaragua. I went down there last summer for the first time."
What are your goals as a surfer?
"At the moment, I just really want to win a national title through NSSA or USA Champs. I'm just going to keep doing the juniors in this region for now and hopefully after I'll do the QS and the other contests around the world."
Did Caroline Marks making the tour at such a young age inspire you?
"Yeah, definitely. She's so incredible, it was so impressive. She's the youngest person ever on tour, so it really shows you can do anything if you try hard enough."
Who's a pro surfer you really admire?
"Definitely Carissa Moore. I really admire her powerful surfing and she's so positive and such a great person."
She's definitely an amazing role model, and being on the Pakaloha crew Paige Alms has to be an awesome influence as well.
"Yeah, I actually went over to Jaws and got to see her surf for the big wave contest. I actually got to see all the girls surf [in the 2018 Women's Pe'ahi Challenge]. It was incredible."
Does big wave surfing ever cross your mind?
"I like the bigger waves, like 6-8, but I see Jaws and I'm like, '…not happening.' (laughs) It's terrifying."
What is your fitness routine?
"I run and I surf and I eat pretty healthy food. I also go to Kid Pilegro's ginastica class every Friday."
What always make you smile?
"Just being at the beach. Watching a pretty sunrise at the beach. That's a really great way to start the day and you really can't go wrong from there."