By Chris Latronic
Laka Haililani Burgess grew up surfing Sunset Beach on the North Shore of Oahu, hunting anywhere that had good barrels and stomping around Ke Nui and Kam Highway as a grom. The now 42-year-old was educated all over the island and beyond, from Sunset Beach and Kokohead Elementary to Kamehameha, Huntington Beach High and Santa Ana Community College.
After entering the professional surfing field at the young age of 16, Laka was a solid up and coming prospect in the era of Pancho Sullivan – the power surfing age. Laka's best competitive result was a semifinal finish at the HIC Pipeline Pro in 1996 and this year, the surfer is looking to compete in enough events to get into the Vans HIC Pro at Sunset Beach.
Laka's job expertise is also extensive, varying from manure transportation engineer (yes you read that right) to being a lifeguard and rescue specialist with Big Island Fire to performing helicopter and ocean rescues on the regular. Laka's professional track has been nothing short of unique.
The surfer's diverse life journey has brought him to his current occupations as a Honolulu Firefighter and also a sales representative for Xcel Wetsuits, SUPERbrand and Filtrate Eyewear.
First experience surfing?
I don't remember my first time. I do remember when my family had some land down around V-Land Point though, and way back then there were only a few houses on the beach. I used to take my uncle's old single fin and catch 10-inch waves and think I was killing it. I used to think it was two feet till my grandma showed me a picture of me surfing it. My first board was a Hawaiian Style single fin. My Dad took me over to my Uncle Brian (Surratt's) house, where he lifted his garage door, had about 100 boards inside and said 'pick one'.
You a family man?
Nothing in this world has molded or changed me for the better more than having my two sons. I take great pride in raising my children. My soon-to-be wife is also a huge positive in my life.
Favorite surfer, past/present? 
There are so many great individuals and artistic people in their craft… too many to point in just one direction. But I'll do it anyway. Duke (Kahanamoku) for the past, for what he gave to the sport, and JJF for where he's taking the sport today.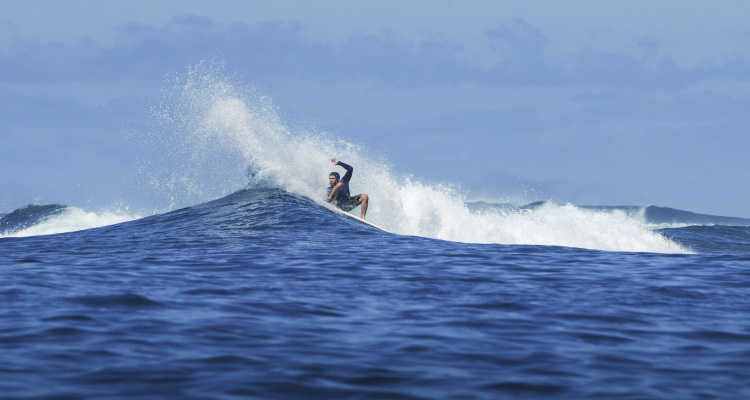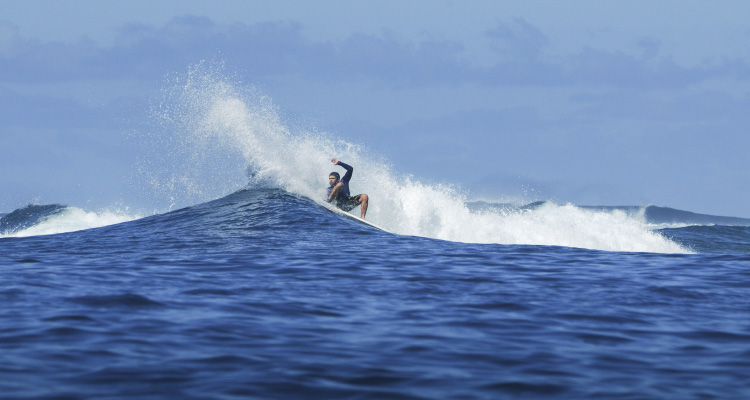 Fondest moment in your competitive surfing career? 
I'll say the heaviest moment was the HIC Pipe Pro back in the day, quarterfinal heat after posting a 9 on a Backdoor wave. The reef sucked dry as I tried to squeak back out and the next wave exploded on me, slammed me upside down on my back, then head, then ribs. I finally came up and Abe Learner was there on the ski asking if I was okay. If I accepted help, I would have been DQ'd. I paddled back out after a few minutes inside, got one more Backdoor wave for a 5.5 and advanced to the semi's. The event staff had me ice my back when I got to shore because it was so swollen. It seized up, I could barely walk. I couldn't even paddle back out for the semi's. The next morning I awoke to my pillow sticking to my head because blood had dried to it and I didn't even know. If someone writes in to the magazine and answers who won that event, I will send them a free pair of shades!
How does one become a surf rep?
Usually, it's by the people you know in the industry. I was fortunate enough to have friends that knew important people in the surf industry. With my background as a professional surfer it was easy for me to get right in there and step in as a sub-rep at first, then evolving into thee 'Rep' position. Next thing you know, I've got great brands like Xcel wetsuits, SUPERbrand and Filtrate Eyewear. In the end, its all comes down to who you know.
What's it like in the surf rep world?
You're on the road a lot and you get to meet a lot of different people. You work closely with the buyers and the owners, trying to cater to the retailers. Every retailer is different and has their own niche in the market, so you work with them to find what sells best for them. The more turns your product makes within their store, the happier everybody is. It's a great job. I handle the sales for my territory, which includes Hawai'i and Guam for each of my brands. If I knew this side of the business when I was competing/growing up I would've treated my career much more professionally when I was younger. Everyone knows everyone or has links in some way. Be cool to everybody!
Who does a surf brand hire as their rep – an ex-professional surfer or a hot shot MBA from the mainland?
It's always good to have the business background. But you could take a guy who has a Harvard degree and put him in the surfing world and you can easily tell he's a fish out of water. You have to have a background in surfing. Majority of the buyers and the people who run these stores have surfing backgrounds, so if you can't talk to them one-on-one, relate to how the waves were yesterday or how the markets are doing and where you see it trending, then it's hard for that guy to effectively help their business.
Tell us about being a firefighter.
It's a very rewarding job! Everyday can bring new challenges. The profession is highly respected and highly gratifying as well. I've been in the Fire Department for over 10 years and I'm able to learn new things every shift still. So fortunate!
If you could change anything on this island, what would it be?
Ooooh controversy! I would change the requirements for home ownership here. You would have to live here first for 5-10+ years before you can come in and buy a house. And an airport tax. Every non-resident to Hawai'i who lands here for business or pleasure pays an additional $2.00 tax to go toward infrastructure and maintenance of the islands. I have so many more I can't even get started.
Future goals?
Possibly developing my own company. Actually it's already in motion.
Last words of wisdom to Freesurf readers? 
I wouldn't think of it as wisdom, but rather lessons already learned. Life is constantly changing, people change, treat everyone as nice as possible. See ya in the water!
pau