MORE THAN JUST ANOTHER FOOD TRUCK
By Blake Lefkoe
Photos Tony Heff
"We're aiming to create a product that nourishes our land, our people, and our economy. We strive to stay mindful of these three spheres when making decisions at Banán."
The heat this summer has been intense. Unfortunately, it's not really possible to spend every waking moment out in the lineup. At some point, we need to escape the sun, rest our tired arms and feed our hungry bellies. When it's sweltering and nothing sounds appealing, what are your alternatives to the daily fare?
The answer comes in the form of a hip new food truck located in Kaimuki, called Ban'an. Seven days a week they dish up bowls full of refreshing, tasty, healthy, soft-serve made out of nothing but frozen, locally grown fruit. On a hot day, or pre/post surf, nothing quite hits the spot like one of these delicious, icy-cold treats. And if that isn't enough, this business does so much more than simply sell food.
While there is no shortage of food trucks on the island, none embody the spirit of "living pono" like this one. Ban'an is owned and operated by four friends who are driven by their mission "to provide Hawai'i with a healthy, wholesome, and affordable meal made from fresh produce picked right from the islands." So far, they are doing just that.
The owners, Luke Untermann, Matt Hong, Zak Barry and Galen McCleary were all
born and raised on the Islands. This crew of young, entrepreneurial surfers aren't just feeding people, they also "strongly believe in supporting local farmers and boosting the local economy. By consciously making the decision to buy local, people become more connected to themselves, their communities, and the land they live on. Banán strives to build a happier and healthier world by bettering these three spheres of our customers' lives."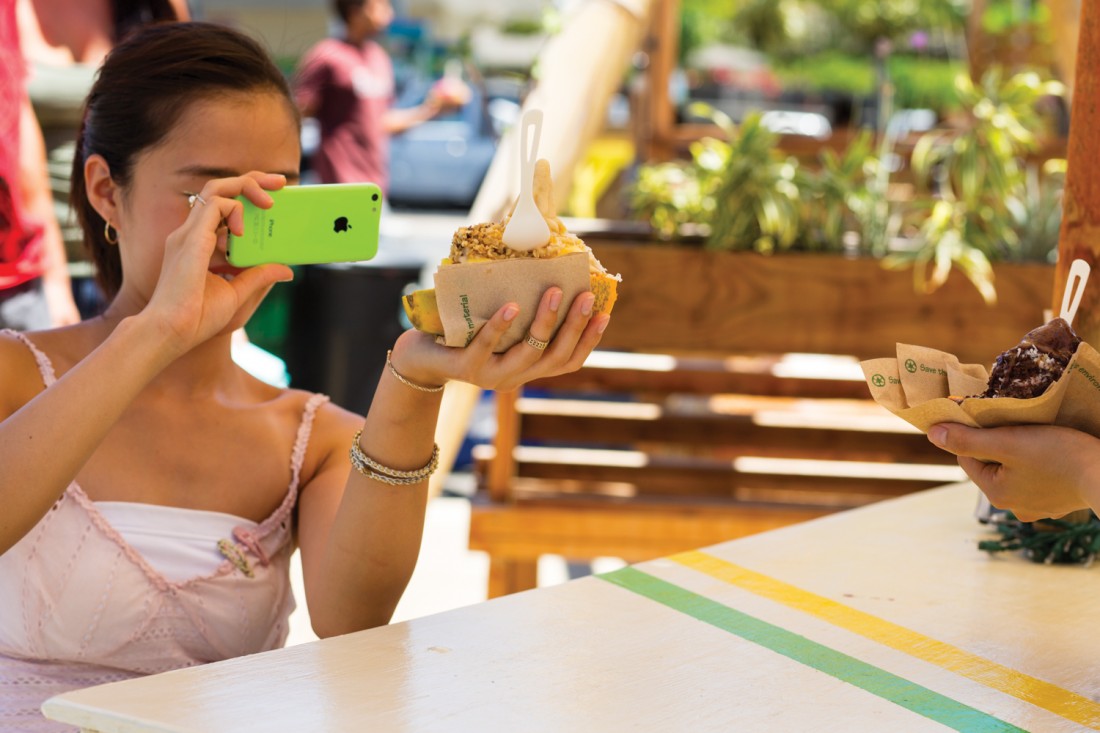 Virtually every ingredient used to make these tasty treats is bought locally. When a customer buys a bowl, they are not only supporting a small local business, which keeps money in the islands, but they are supporting local farmers as well. Matt says, "We buy our bananas from Sugarland farms in Kunia. Our papayas come from all over Oahu and Big Island and we're working to start a relationship with Kumu farms in Molokai."
You have probably heard of this new "farm to table" fad, but this down to earth crew takes it one step further; they are completing the circle with their practice of "table to farm." All of the food-waste the truck produces is brought to Kunia Country Farms and turned into compost. What would ordinarily be rubbish is now actively contributing to the growth of more local food instead.
This rootsy foursome has created a business model that does more than promote sustainability; it practices it. From using recycled materials, composting and buying local to making onsite recycling convenient and easy, the owners of Ban'an are finding ways to give back to the island and community they grew up in Matt believes that, "This business is a good opportunity to connect with the community and feed the people in it. We're trying to give our customers more of an involved experience. We do things like BYOP (bring your own papaya) and we'll fill it with soft-serve or customers can bring in fruit to trade for a bowl. We want to make local eating as easy as possible for our customers and do it in a really fun, creative way." And there is no end to their creativity. "We try and add a lot of art to what we do, whether it's creating our bowls, building up the lot or painting the truck," he adds.
When world champion surfer, Carissa Moore isn't on tour, she frequents the Ban'an truck. "I love their Farm-to-Table and Table- to-Farm philosophy," Carissa says. "They feed the community food grown from Hawai'i's land and compost all their food waste with farmers, so they can help Hawai'i grow more food! The boys genuinely love what they do and love connecting with their customers. It's inspiring to see how much they care about feeding Hawai'i healthy and local food. They also have such a fun, creative, and mindful company culture."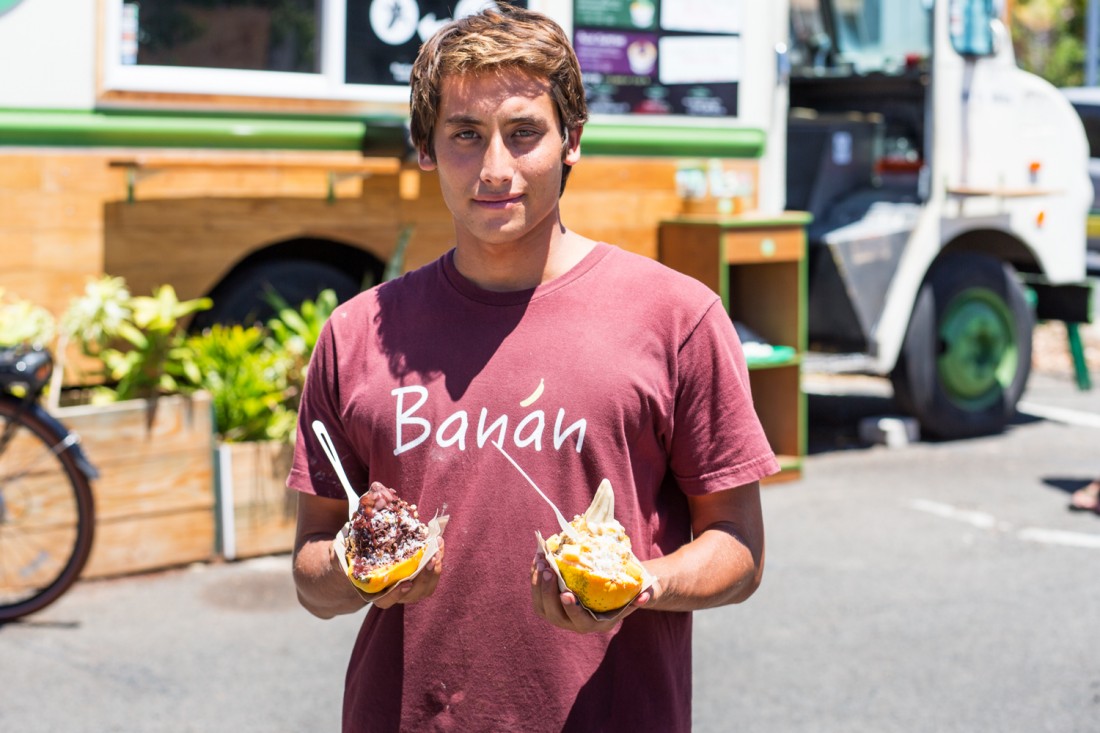 These young, motivated, bright surfers have a lot going for them; not least of which is how much they enjoy what they do. "It's been such a fun endeavor because we get to work with our best friends and it's incredibly fun and fulfilling to get to feed our customers and interact with our community," Matt explains. In addition, because there are four of them, and it only takes two to run the truck, they get to take turns working and surfing. That sounds like a pretty good gig; especially when work consists of hanging out with your best friends, interacting with cool customers, helping the local economy and environment and making people happy by feeding them super yummy, healthy, locally grown food.
The next time you're hot, sweaty and craving some refreshing grinds, check these guys out- you won't be disappointed in their bowls, or their ideology: "When we think about our food and our relationship to the environment, we make eating so much more than just a meal. It holds deeper potential than just tasting good. Food can also fill us with a sense of confidence and wholesomeness when we eat in a manner that is healthy for our bodies, our land, and the future generations."