Full Name: Luana Coelho Silva
DOB: May 7, 2004
Age: 10
Hometown: North Shore, Oahu
Homebreak: Sunset and V-Land
School/Grade: Sunset Beach Elementary, 5th grade
Stance: Regular
Sponsors: Luli Luli Bikinis, Scarfini Fins
Born at Kapiolani hospital in Honolulu, raised in Waialua and now living on the mauka side of Kamehameha Highway near Sunset Beach, Luana (which means 'happy' in Hawaiian) is gracing the lineups on the North Shore. Surfing since the age of three, the ten-year-old has an obsession for surfing that many don't find till their teens. Focused and motivated, you can find this ehu-haired girl shredding Sunset on Bushman boards, eager to live and breathe the sport and lifestyle.
Although competition is new to Luana, she has already nabbed a few commendable results to speak of. Recently qualifying for NSSA in 2014 and competing in the Huntington Beach Pier event, the surfer girl was invited to Surfing America and made it to the semi finals at Trestles. Placing third in two divisions at the Duke's OceanFest this year – ages 14-15 and 12-13 – Lulu is leading the HSA Girls Shortboard 11 & Under division.
Hitting double digits this past May, Luana a.k.a. 'Lulu' Coelho is a name to keep on your radar. Especially since she's been training with Kahea Hart's North Shore Surf Clinic to gear up for more competition. Read on to find out more about this surfer girl and what makes her a unique wahine spotlight that rips in the water.
What boards are you riding?
I'm riding Bushman boards. I usually ride 4'10 but I just ordered a 4'11, it's my step up. That's for this winter. I'm feeling good and looking forward to the waves this winter.
What are you most excited about for this winter season?
I'm excited about the Title Race at Pipe. And the winter swells. I watch all the Triple Crown contests and the ASP recaps on TV. Some days I wake up early just to watch them before I go to school. Watching Pipe is my favorite.
Biggest surfing accomplishments to date?
1st place in the 12 & Under division at the Live Like Sion Keiki Event on Kauai last year. 2nd at the 2013 Haleiwa Menehune event in the Girls Shortboard 7-9 division. 5th overall finish in HSA 11 & Under division. 1st place finish at the T&C Grom Contest in 2012, 1st at the Rell Sunn Makaha Menehune Girls Shortboard 7-9 division and 2nd place at the Billabong Grom Search in Kuta Beach in 2012.
Favorite wave on the North Shore?
Does it have to be one that I've ridden? I like surfing V-Land and I like watching Pipeline.
How about internationally?
Kuta Beach in Bali. And then Nias (Indonesia). I surfed a right-hander sand bar that starts by the river mouth. So much fun.
What do you love most about living on the North Shore?
I love the countryside and the culture. And the aloha spirit.
Favorite surfer?
I like John John, Gabriel Medina, Carissa Moore and Tyler Wright. I like John John and Gabriel because they do incredible aerials. Carissa does these huge hacks. And Tyler, she can boost airs too.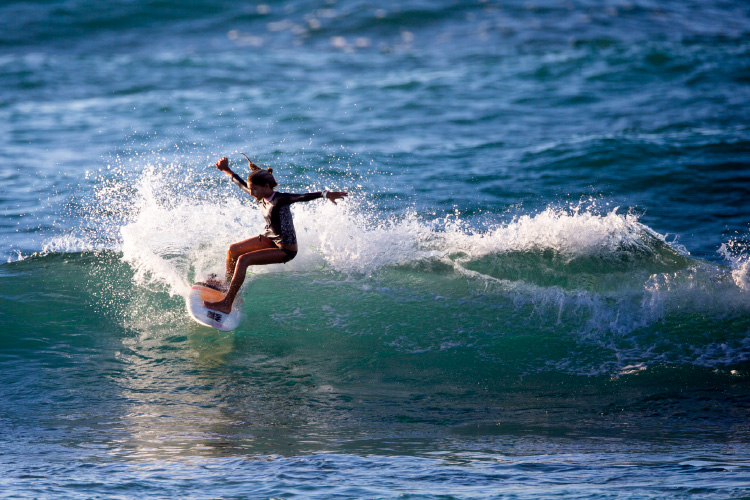 Tell me about your worst wipeout.
I was in Bali doing a contest. I caught a set and pearled really hard, but luckily it was sand bar. I tried to paddle back out but I got caught again. The contest was in Kuta Beach and I ended up placing second, so it was a happy ending.
Who are your closest surf buddies?
Logan Harris, Aika Dougherty, Sariyah Milosky, Betty Lou Sakura Johnson and a lot more.
What do you consider your strong points with surfing?
My turns, cutbacks and snaps.
What wave is challenging for you?
Ehukai, because it's a sandbar and breaks super fast.
What tricks are you working on?
I want to try and do an air in at least a year.
Goals in life?
When I grow up I want to be on the WCT, I want to be a pro surfer.
Dream surf trip destination?
Tahiti, Australia, Mentawais, Paris, France… all the places that the ASP goes.
Why Paris then?
The food! I like baking goods, like sweets and brownies.
Tell us about your hobbies outside of surfing?
I play tennis. And in school I like P.E., art, social studies sometimes math… when it's fun. I also help my mom with bikini designs for Luli Luli Bikinis. I have good taste, so I help her pick out which ones are the cutest and the best for surfing. We're working on a new line coming out soon.
Wetsuit or bikini?
I like being in a bikini. I like to be free.
Favorite post session grinds?
Acai bowls and Crispy Grindz!
Dream sponsors?
Hurley and Rip Curl.
pau