NATIVE SON
A Duke Kahanamoku Tribute
By Lauren Rolland
"Aloha is my creed."
Legacies are created in the wake of extraordinary people. Stories about the greats like Martin Luther King Jr., Galileo Galilei or Mark Twain have captivated people for centuries, playing a role in human history and the development of our civilization. Some figures are instantly pivotal, like Abraham Lincoln or James Cook, while others leave an impression after death, like Vincent van Gogh. Some make their mark over the course of their lifetime, unraveling their thread of fame one year at a time.
One of the most influential men to hail from Hawai'i and the most recognized name in traditional surfing is none other than the great Duke Paoa Kahanamoku. Duke was a man who made historical strides throughout his lifetime, beginning as a record- breaking Olympic swimmer, continuing on as a surf innovator and aloha ambassador in Waikiki, and winding down as an entrepreneur of a small commercial empire, along with many other accomplishments in between.
Humble, peaceful and even-keel, Duke had a stature that exuded Aloha. It's no wonder he became an ambassador for Hawai'i, welcoming movie stars, political figures and popular socialites to the islands; the man was hospitable and friendly, social yet modest, well-spoken yet soft-spoken. Duke dressed exceptionally well and was aware of the image he represented, taking care to be meticulous, clean and stylish.
Duke was born in 1890 and raised in Waikiki by his parents, Duke Halapu and Julia Paoa Kahanamoku, and grew up speaking both Hawaiian and English fluently. The oldest of 9 children (6 boys and 3 girls), Duke and his siblings grew up on the land where the Hilton Hawaiian Village now sits. Raised within a full-blooded Hawaiian family, the Kahanamoku's maintained very traditional aspects of their life, like fishing and gathering limu from the shallow coral reefs near their home.
"That's how Duke learned to swim, handle a canoe, how to surf– he was in the ocean all the time," describes Bishop Museum historian and archivist, DeSoto Brown. "But he wasn't just a surfer, he was an all-around waterman," DeSoto continues. "He loved to sail, loved small boats, powerboats, yachts; he loved to fish and canoe surf, and was a steersmen in Waikiki."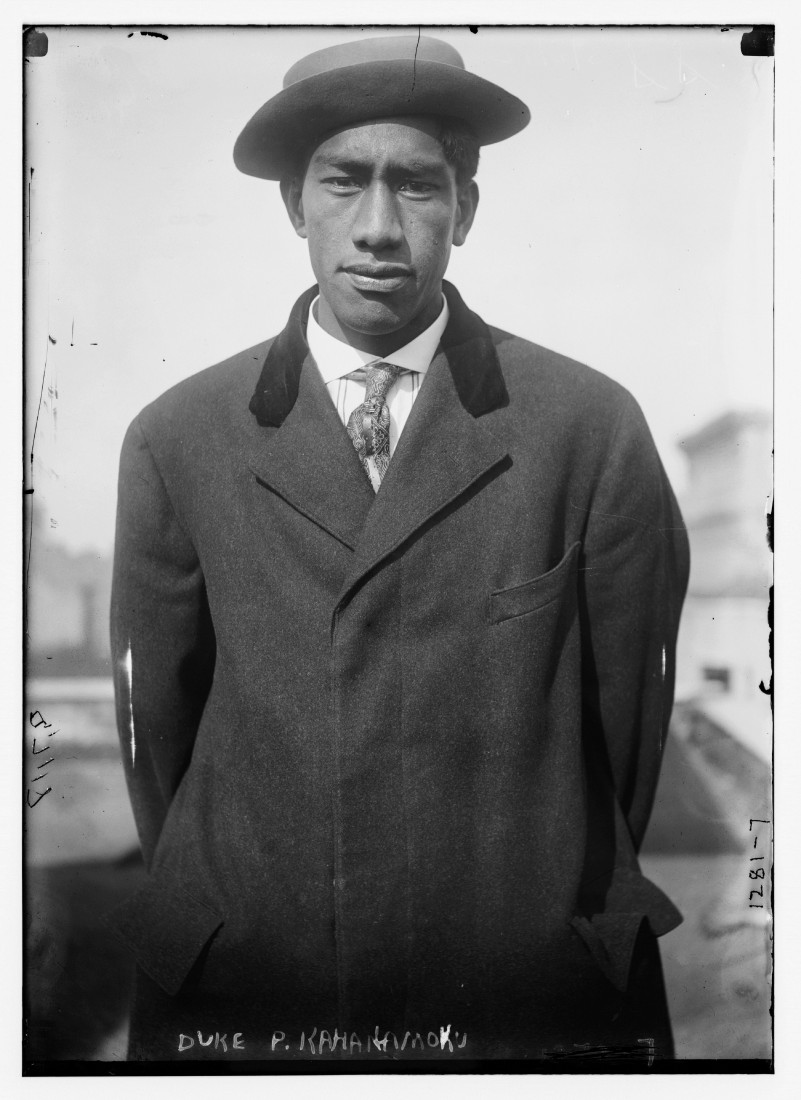 Known today as the father of modern surfing, Duke Kahanamoku is internationally recognized as a figurehead of surfing's revival in Waikiki. "In the very early part of the 1900s, when he was a teen and young man, Duke was part of a small group of people in Waikiki that were keeping surfing alive," says DeSoto. "That's why he's such a major figure in surfing and why he's still recognized today, because his life correlates to the evolution and growth of surfing."
An equally big tribute was introducing surfing to Australia and New Zealand, where Duke first demonstrated longboarding in 1914 and 1915. The Hawaiian made a lasting impression on the people, influencing both countries to eventually become two of the most popular surf hubs in the world.
Earlier this year in 2015, both Australia and New Zealand honored the centennial of Duke's initial visit. "It's not often that something as wide spread as surfing, or any other sport, gets to have a clearly defined birth," explains DeSoto. "Other sports just sort of developed, there's no particular point where you can say, 'this is when it came into existence'. But for Australia and New Zealand, they can say this is when surfing started." The man is a symbol of surfing in so many ways.
Duke also helped popularize wave riding in California and was involved in surfing becoming a professional sport. Using his namesake to coin one of the first pro events, the Duke Kahanamoku Invitational Surfing Championships at Sunset Beach began in 1965 and continued long after Duke's death in 1968. We can clearly see the stages of development in surfing, since it's a relatively young sport, and Duke was alive to witness this evolvement. From cultural to amateur to professional to a lifestyle, Duke was as at the forefront of this movement.
Although surfing is what Duke is most internationally known for today, the sport that originally launched his fame was swimming. Duke broke 3 freestyle world records in Hawai'i's first ever Amateur Athletic Union (AAU) swim meet in Honolulu Harbor in 1911. The following year, he competed at the Olympics
in Stockholm, Sweden, and won Hawai'i's first Olympic gold medal for the 100-meter freestyle, and a silver medal for the 4×200-meter freestyle relay. Gaining international notoriety as a prodigious swimmer, Duke went on to attend the Olympics again in 1920, 1924 and 1932.
During this time, Duke lived in Southern California (from 1922 to 1929) and appeared in nearly 30 Hollywood movies. Getting small roles as a pirate, Sioux Chief, Persian guard and Pacific Islander, among many others, the Hawaiian befriended legends like John Ford, John Wayne, Cary Grant, Charlie Chaplin, Babe Ruth, Amelia Earhart and Shirley Temple. After moving back to Oahu, Duke became a sheriff in Honolulu and oversaw the jail and inmates. He was first elected in 1934 and served for 13 consecutive terms until the office was abolished after Hawai'i became a state in 1959. After this, Duke became Honolulu's official greeter and ambassador and was proud to be American.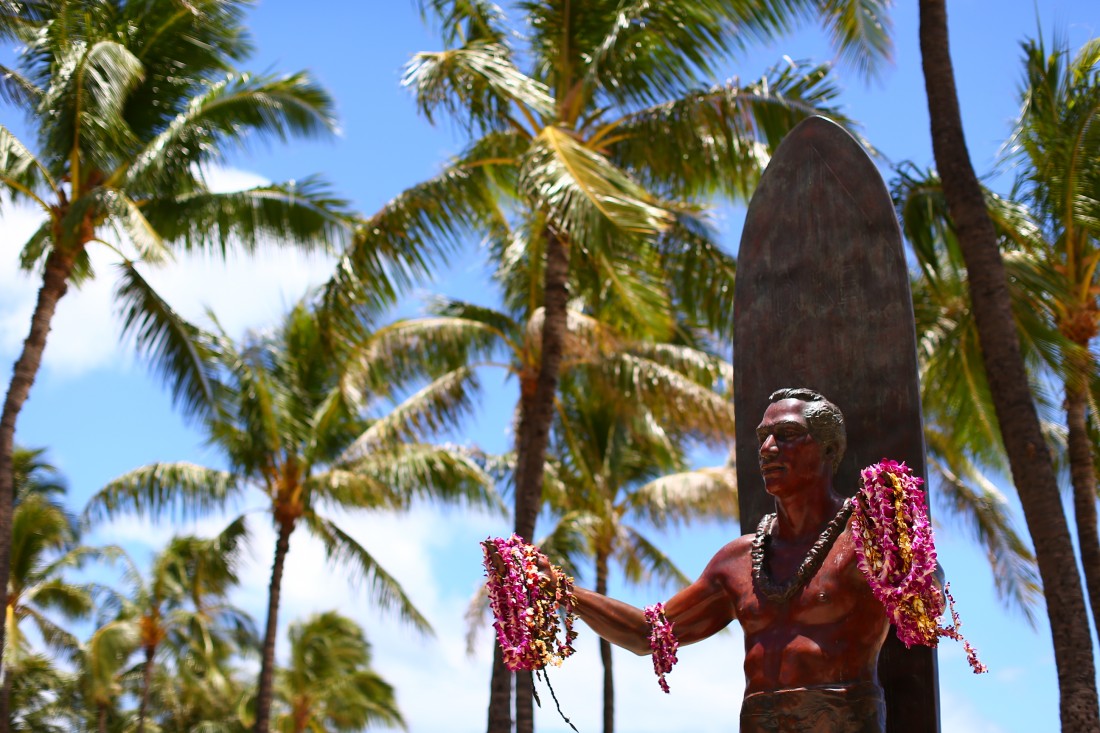 In honor of what would be Duke's 125th birthday (on August 24th, 2015), Bishop Museum in Honolulu is presenting an exhibit from August 9th through November 30, 2015. The museum boasts the largest collection of Duke's personal items and plans to use many of them to help illuminate the life of Duke; as the Olympian, movie star, businessman, aloha ambassador, family man and celebrated surfer.
One of the greatest legends of Waikiki surfing history is the story of Duke's longest ride in 1917. The athlete rode what's estimated to be a 30-foot wave all the way from Castles (near Diamond Head) to Canoes at Kuhio Beach, approximately 1.8 miles long! The ride took an estimated 2 and a half minutes to surf, and many of the beach boys alive today still relish in the memory.
Bishop Museum exhibit engineers designed an interactive ride for guests on a replica of Duke's finless wooden surfboard in a 3D video game, which allows the 'surfer' to experience the mile-long wave across Waikiki. Working in details like noserising for speed, turning, and different viewpoints, the activity allows riders a look into surfing during that era and a recreation of 'the longest ride'. Tested by yours truly, (and in heels nonetheless), the interactive activity was exciting and insightful, and was the perfect way to work on some cross stepping across Castles, Publics, Cunhas, Queens and finally Canoes.
The museum will also have a 'Race Duke' swimming interactive where two players can swim against Duke in a recreation of his 1920 Olympic record time in the men's 100 meter freestyle. Again, speaking from experience, this game is a fun workout, friendly competition, and really puts into perspective how fast Duke was, and the actual time it takes to swim a 100-meter freestyle competition. Guests will also find a 'Then and Now' photo feature, a touch screen that explains many of Duke's personal possessions, his Olympic medals, ukulele, famous 10- foot redwood surfboard and much more.
With a grace and character that was uniquely his own, Duke developed a name that is drenched in culture and history. The original Bishop Museum exhibit brings to life his truly Hawaiian story in celebration of the 125th anniversary of his birth, giving visitors the occasion to get to know Duke in an inspiring way. Hard work, strong ethics and a humble sincerity is what led the man to live and share his motto:
"Try meeting or leaving people with Aloha. You'll be surprised by their reaction.
I believe it and it is my creed.
Aloha to you."