By Cash Lambert
In the 21st century, a time that has already seen a metamorphosis and revolution and upheaval within so many avenues of technology and culture and thought, the shadow of eco-friendly boards has remained larger than the foam itself.
There's a myriad of reasons why, and it starts with the reputation. Boards made of eco-friendly materials have a reputation of underperforming, and performance is undoubtedly the bedrock of our sport. After all, what does the anthology of surfing look like without slashing carves from Andy Irons, power spray from Sunny Garcia or boosting airs from John John Florence?
Not only do such boards under-perform, per the reputation. They also lack durability and during winters like El Niño, the last thing anyone wants while paddling into maxing swell at Haleiwa or Sunset or Pipeline is a board that doesn't feel strong and dependable. Above all, the cost of boards with a green footprint, if they were instituted in the near future, would be far greater.
A handful of teams and companies have set out to disprove this pertaining thought. One of those teams is Oahu's own Robin Johnston of RJ Surfboards and Kahi Pacarro, Executive Director of Sustainable Coastlines. They took a calculated risk by not only shaping eco-boards, but also personally testing them to feel the outcome.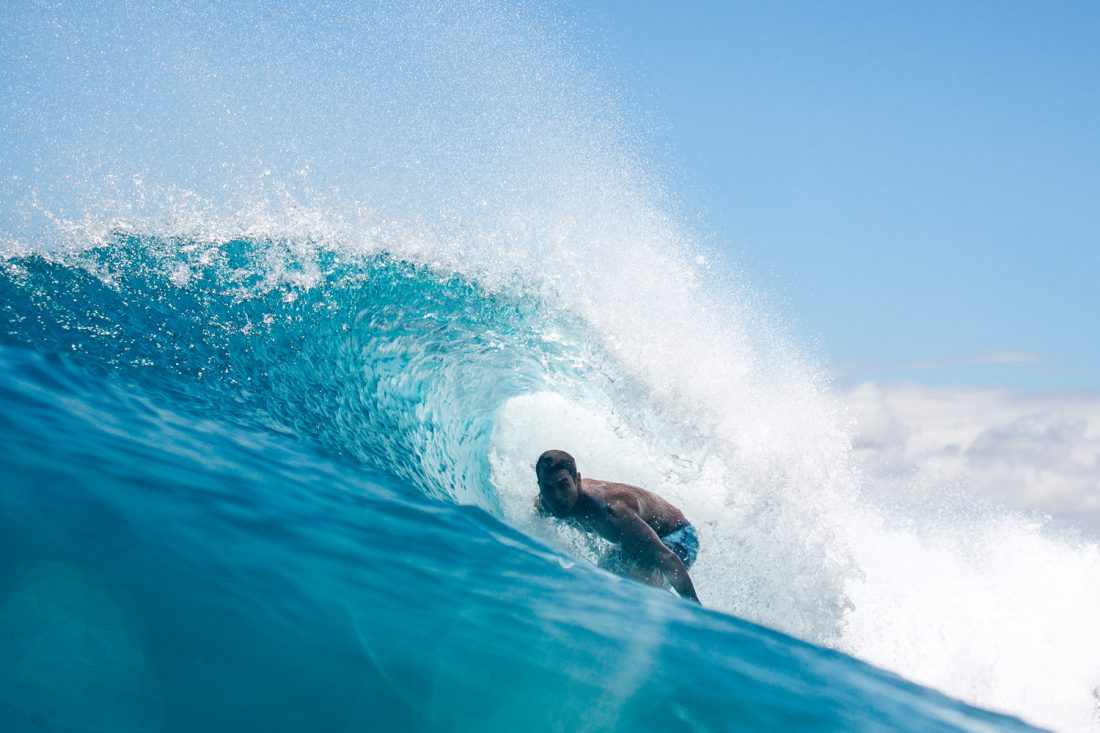 "We made the boards with recycled foam and a percentage of the resin was made of tree sap," said Robin, who's shaping bay is located on the North Shore. "The recycled foam didn't look much different from a normal board after it was done, they still looked bright. My board was a round tail with a full nose and a lower rocker, and the first wave I caught, the board felt amazing. It's light weight made it extremely responsive, and it felt pretty much like an epoxy board except with a little more flex."
But did the lightness factor make the boards less durable?
"I did notice that it felt light, but my first eco-board is over a year old now, and it survived the entire El Nino winter," said Kahi Pacarro. "I surf with a heavy foot too, and the deck of board isn't all collapsed in. Its strong."
"The foam is responsible for so little of the board," explained Robin. "With epoxy boards, the foam is coffee cup strength. It's easy to push to finger into it. The strength is coming from the glass and epoxy resin, and the case of the eco-boards and the recycled foam, it seemed very strong. We used standard fiberglass too. Overall, the board felt strong for its weight."
"Unless you've surfed epoxy prior, it's going to feel different," said Kahi, noting the only significant contrast. "Epoxy to epoxy, it felt the same. I couldn't feel any differentials in performance from a standard board."
Moreover, the boards seemed to have a different element that standard boards lack.
"It gives you ability to surf with less guilt, to avoid the hypocrisy," said Kahi. "It was a good way to do that and still continue to do what we love, and at the same time, push for change, push for sustainable future."
But as Kahi noted, the team's eco boards aren't chair up the beach worthy – yet. "The truth is that even this technology isn't the solution, because it's not a 100% green board," he said. "It's more of an environmentally friendly board when compared to standard board. We still have a long way to go, but we have to get the ball rolling."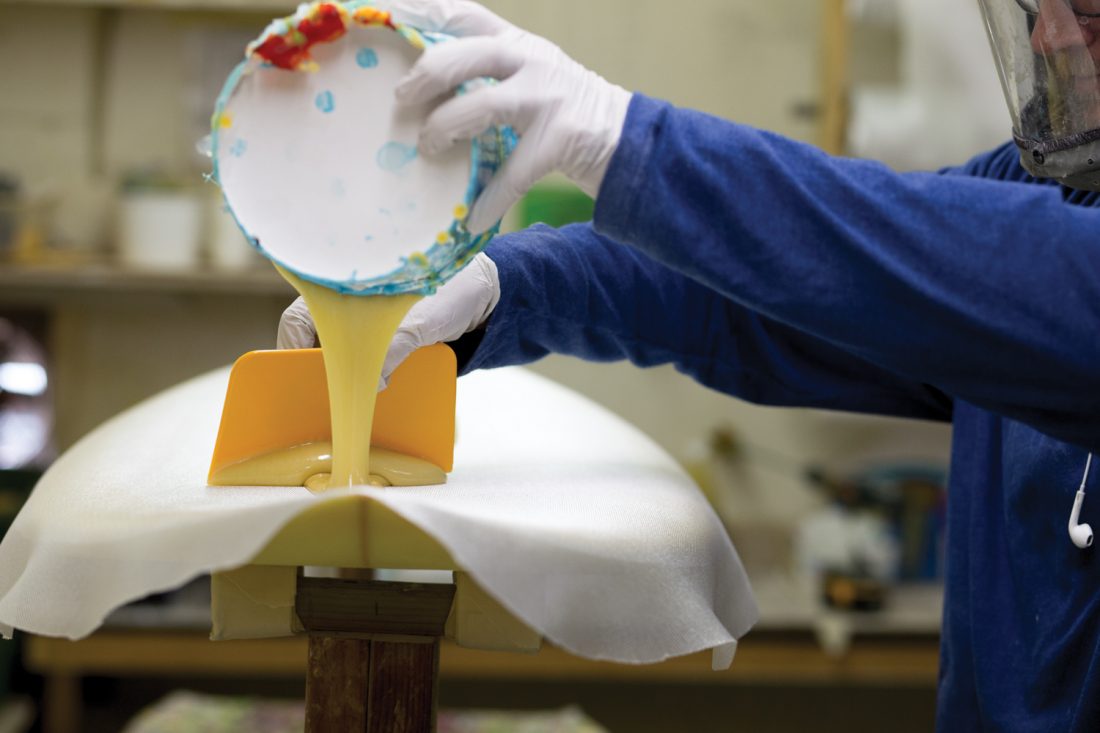 For both Kahi and Robin, although getting the ball rolling is indeed a tough challenge, the cost of the boards actually works in the favor of all things green, not against it.
"The price difference is negligible. It's not that much more, about $30 or so," said Robin. "You wouldn't notice much of a difference in price if you ordered these boards."
Battling the stigma on performance, durability and cost, all of which seemingly revealed more about the true temperature of the surf industry on its views towards greener solutions than the board itself, remains the biggest obstacle.
"It's a mix of supply and demand," said Kahi. "There's very little demand so there's little supply, and little supply means there's a perceived notion that it doesn't work. For example, Firewire is moving in the right direction, but for the average Joe, we really need to start leading by example, taking the risk and doing it. A lot of us have taken the risk, and performance wise it's showed no difference. But switching is going to take some time."
What else can help, according to Kahi, is for a distributor to fill the blank void in Hawaii. "We had to bring in our blanks from the mainland, and nobody is bringing in recycled blanks in a mass order, so that's really the reasons costs were a bit higher than a standard board," he said. "I encourage for shapers to offer the recycled foam to clients, because many surfers may not even know this is even an option. If you get asked by a shaper would you rather have this eco-friendly blank and resin, and it may cost you an extra $30, why would you go the other way?"