If you've ever surfed out at Ala Moana Bowls, you've probably noticed the cute little firecracker with short white hair picking off the best waves. That legendary woman is Jeannie Chesser and odds are, she's been surfing longer than you've been alive.
This energetic wahine won her first contest in 1965, merely a year after she started surfing and was even the U.S. Champion in 1992.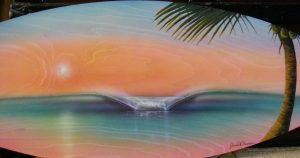 You'd never know it from her fun-loving, devil-may-care attitude, but Chesser has faced mind-blowing tragedy and loss. In 1970, when her son, Todd, was only two years old, she lost her husband in a fatal car crash. When Todd was twenty-eight, he drowned while surfing North Shore's Alligator Rock on a huge winter swell. Ten years later, she was diagnosed with Merkel cell carcinoma, a rare form of skin cancer, and underwent surgery, radiation and chemotherapy.
For Chesser, surfing hasn't always been just about having fun; it's the thing that's literally kept her alive and the depression at bay. She says that surfing is what helps her get up in the morning and has enabled her to survive each of the major difficulties she has faced. A year after losing her husband, Chesser and Todd picked up and moved to Hawaii in search of perfect waves. Once there, they dedicated their lives to surfing. After Todd died, his best friend Benji brought the grieving mother to Fiji's infamous Tavarua. "It really helped me to get out of my funk. It was amazing." At the peak of her cancer battle, she was still trying to surf while undergoing chemo and radiation. "Even if I couldn't stand up after a treatment, I would lay on my board and turn in the whitewash. I never stopped."
While surfing has always been one of the most important things in Chesser's life, it hasn't always paid the bills (at one point, this motivated lady was working three jobs in order to keep herself and her son in the water). Fortunately, this avid surfer has been able to earn much of her income from her other passion: art. In addition to being an incredibly talented water woman, Chesser is also a very skilled  artist who makes beautiful, ocean themed jewelry, paints pictures of perfect, gaping barrels and airbrushes boards. "I paint boards to make a living and make jewelry to have fun, though I do make money doing that too. I do paintings on wood and canvas as well."
From a young age, Chesser was always drawing and painting. Her mom got her into making jewelry as a teenager and she started airbrushing in her early twenties. "I painted my first board in '72, and in '73 I actually got a job at Hawaii Island Creations. That was my first real paying job doing steady airbrushing," she said. Over the last forty years, this professional artist has worked for some of the biggest names in the industry. These days, she primarily works for Carl Schraper and Fine Line Glassing, but says she's basically on-call for whoever needs her.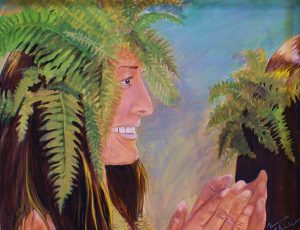 In addition to being lucrative, art is also an outlet. It's another way of dealing with some of the hardships life has dealt her. "Art is kind of therapeutic too… It's that same kind of meditative state where you're just concentrating on one thing. Like when you're out in the water just looking out on the horizon and your mind is just so peaceful. Jewelry and painting are like that too."
Chesser has a great attitude. She is a funny, witty and charismatic character who is not afraid to speak her mind. This eternally young spirit is still ballsy as hell and does not look, act or feel her age. She still surfs almost every day, though unlike most surfers "her age," this ripper still surfs a short board, out at Bowls nonetheless, but admits, "I ride a 6'2 now that I'm getting older. Arakawa makes my boards and every year I go up a few inches."
pau