Sizing up the go-to winter boards of Eli Olson, Kalani Chapman, Aaron Gold, and Jamie O'Brien.
Kalani Chapman "The Cliffhanger"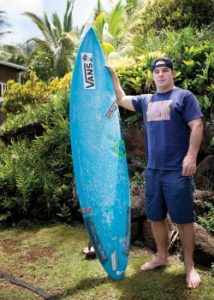 Dimensions: 6'10" x 19 ¼ x 3
"This board makes me feel comfortable out in big surf. The thickness helps it float, and when I'm in the water, I have a lot of paddle power. A 6'10" isn't the smallest board, but it's a good size to fit in the curvature of the wave. It's good for late drops, it's good for paddling and the board gets a lot of speed when you have low entry rocker. I call it the Cliffhanger…you can count on it to make the drop if the wave is makeable.
"It's a few years old, and I've received a lot of coverage on this board. I wouldn't say it is a magic board, there's still some changes I want to make to it. It has a thinner tail, which helps with late drops and that's the kind of board you need at Pipeline since you take such a late drop.
"This board represents all the knowledge over the years, I've tried to pack all I know into this board. It gets the job done.
"Bret made a bunch of boards for Sion years ago, and Sion had a lot of blue in his boards. The color of this board is a tribute to Sion, and yeah this board has gotten me through a lot of heavy situations where I thought I was finished, but I hung on and so did the board.
"The best advice I have is to try and get a board that's for the wave you're surfing. If the spot is windy or glassy, all that matters. My theory has always been certain boards, certain waves. Don't give up on a board too quickly, because there's a lot of factors and there could be something else at play."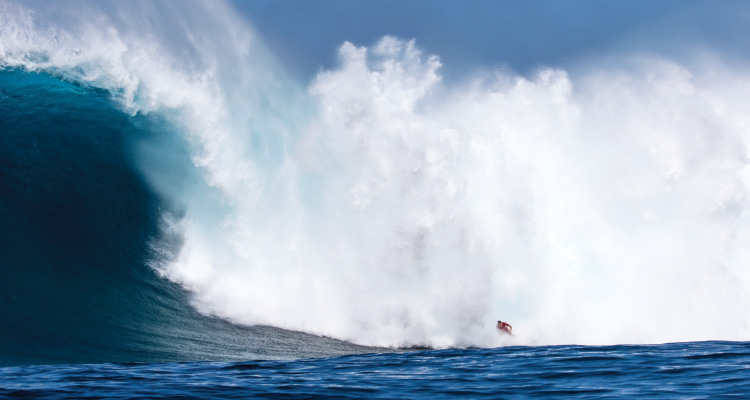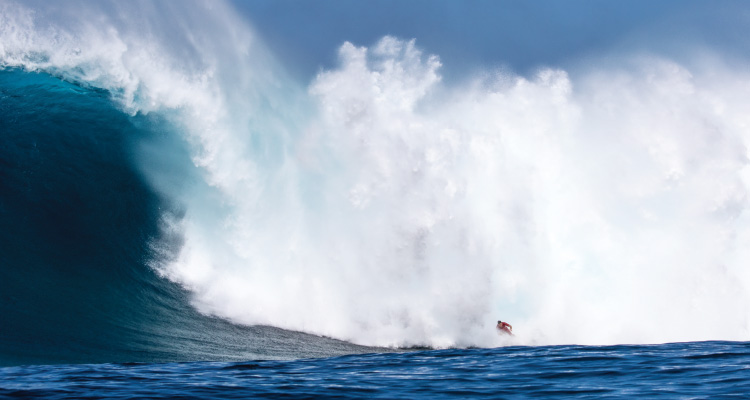 Aaron Gold "The Gun"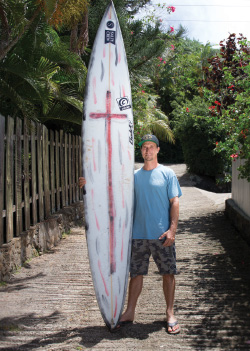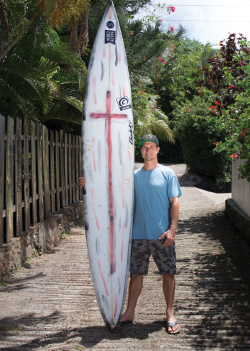 Dimensions: 10'2" x 20 ¼ x 3 ¼
"This is a board I've refined over the years. I've been playing with volumes and refining the outline, so I know what the board is going to do every single time. I can take off on a wave on a brand new board and it will perform the same as the ones before it.
"The tail shape on this board is more narrow than most guys ride in Hawaii. I have a lot of V, which helps with its turnability.
"Talking about fin setups, a lot of guys are riding quads. I'm dabbling with that, but I've always stuck with thruster setup. If I take off on a wave, I don't get any tricky new things. My boards are solid, I know where my foot is going to be and I've used the same fins since I was a kid.
"Chasing waves is hard enough, so once you get a board that works for you, you fine tune it. There's years of compilation into this board, although I'm still making changes, some epoxy and some crazy stringers. But for guys that chase big swells, we stick with what works.
"I've been using the Dakine Peahi leash, and to date I haven't broken one. It looks like a fire rope and some guys don't like the dynamics… I don't like the quick release but I fine tune the leash. The Dakine leash is standard.
"I have a cross on all my boards. That's my faith and what I believe in. I know God's out there watching over me, and my faith is what's important to me. The design is a constant reminder for me to remember and represent what I believe.
"I've shaped and glassed these boards. I love shaping, I'm not mass producing boards. At some point, I'd like to get into that, but for the time being I enjoy making my own and having a relationship with the board so that I know exactly what I changed.
"It's pretty hard to find a magic board off the bat. Every surfer surfs a little different. It's important to go into it knowing your strengths and weaknesses. It is also important to stick with shapers who have been shaping for a long time. We have great shapers here in Hawaii, and it's about finding the right fit for you."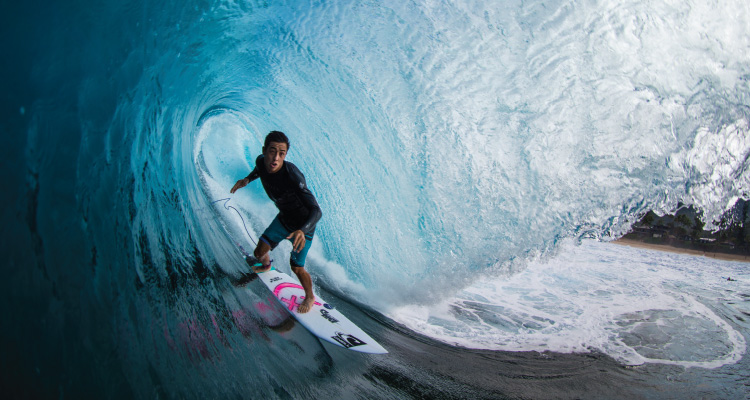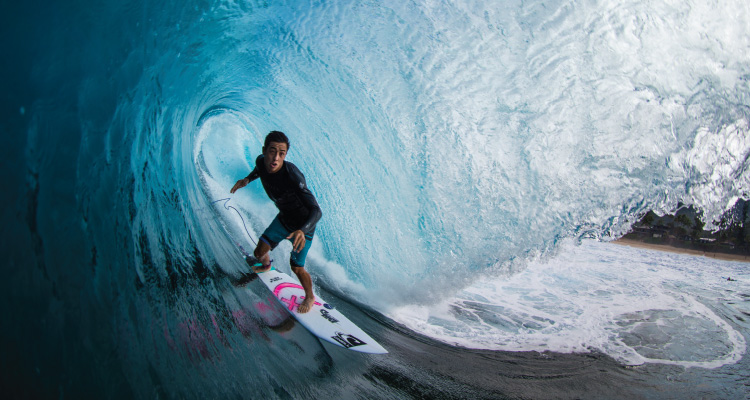 Eli Olson
 

The Go-To Winter Board on the North Shore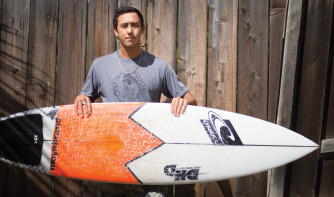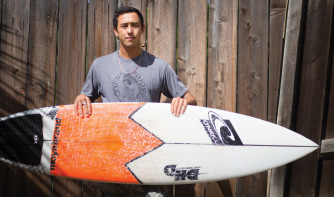 Dimensions: 6'8" x 18 5/8 x  2 5/16
"This is the all around board because it's not too big, and it's not too small. From the average solid swell at Pipe, Haleiwa, Sunset…for all the main breaks on the North Shore, this board has enough volume to power through these waves. It's not too big to fit in a barrel or tight pocket. It's my go to all around board.
"It varies in each season how many boards you break. This one made it through the El Nino winter. Some winters you're super lucky and you break just a couple, and other winters you have shockers and break 15 to 20 boards. There's even sessions when you break 3 boards back to back to back, and it seems like no matter what you do you can't save them. At Sunset and Pipe, everyone wants to bail during big sets. I usually duck dive and do backflips, cartwheels but I hang onto the board. They last 10 times longer than if I bail. I may have to bite the bullet and get dragged halfway to the beach, but I'll take one for my board.
"If this board breaks, the game plan is to have its twin brother or twin sister waiting for me, polished and ready to go.
"I've always been a fan of Futures for fins. They have so many varieties and are easy and quick. I like FCS too. These are John John's signature fins, and I honestly use them in 2 foot Rockies to 10-12 foot Pipeline. They work, and I like to keep things simple. When it works, it works.
"I've been going with the color orange for the past few seasons. Everyone does their own air brushes to make their design, and I feel like the color orange pops on a beautiful blue wave. I got a cover of Freesurf on an orange-colored board, and the color was bouncing off the wave. It looked so nice to me, so I decided to make it my color."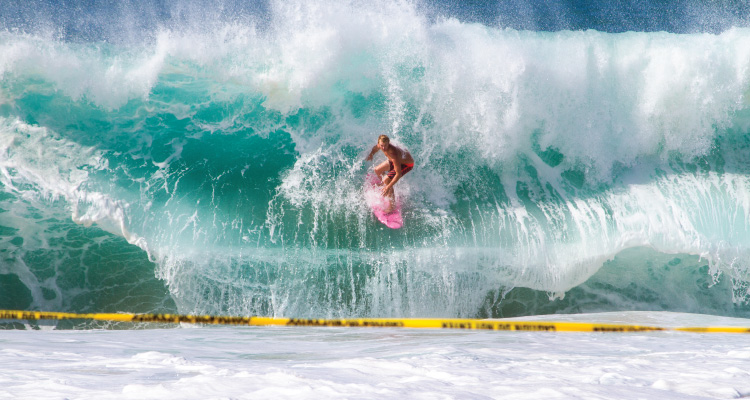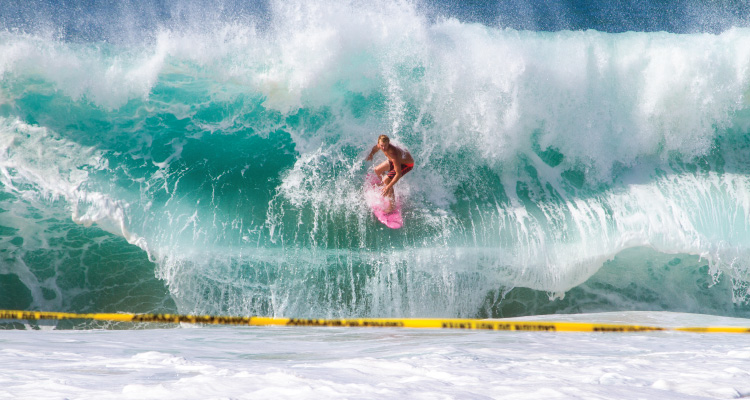 Jamie O'Brien's Non-Fiberglass Quiver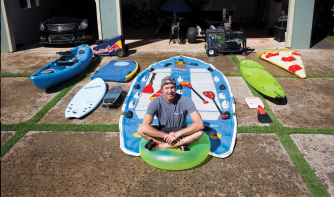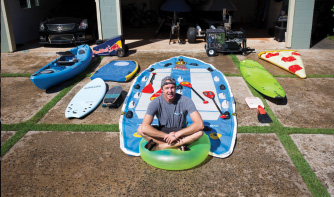 "My CatchSurf Odyssey longboard is good for step offs, and when you feel like being a longboarder at Pipe. The fins are some new kind of technology in that they bend, which makes it more fun, but also more difficult. The board paddles so good, and to see the wave coming at you, you know it's going to be a challenge. Everything works with it, there's room to move, and it makes the ideal setup.
"The bully board, it's the ultimate boogie board. I don't weigh enough to ride it myself, we usually throw the boys on it. I can't get on rail, again I'm too light, but this board is really fun. The guys at Makaha kill it on these boards and I thought I'd get one and it would work. I like trial and error, and this board offers a lot of that.
"I've been getting into kayaking lately. We have a two man kayak, also one man. They work good for bridge drops, air dropping and for other fun things at Waimea. It's an awesome piece of equipment.
"My 5'6" Skipper signature model, this goes perfectly with the 8'0" Odyssey board transfer. At 8-10 foot Pipe, you get in early enough and do the board transfer, come off the bottom and sometimes the board will go into 20 pieces. I haven't gotten the wave I've wanted on this board yet, so it's still a work in progress.
"The best thing to tell kids looking to add any of these in their quiver is go buy it, it's all fun. If you can't enjoy these things, I don't know what you're doing wrong."