Caption: Winners Makana Pang and Gabriela Bryan hold their checks during the awards ceremony.
HALEIWA, Oahu/Hawaii – (Sunday, April 1, 2018) — Kauai's Gabriela Bryan (HAW) and North Shore's Makana Pang (HAW) were victorious today at the Wahine Pipe Pro and Pipe Pro Juniorwith plenty of action and drama playing out in the picture-perfect split peaks of Pipeline. A World Surf League (WSL) women's Qualifying Series (QS) 1,000 and a men's Junior QS, the competition took place over two days during Easter weekend and saw pristine conditions at the world-famous break.
This is Bryan's third consecutive professional win for 2018 and she has steam-rolled to the top of the regional rankings in both the women's Junior and QS divisions. Her breakout year began at the Sunset Pro Junior, strengthened in Tahiti two weeks ago during the Papara Pro Vahine Open, and reached new levels today at the Wahine Pipe Pro.
"This win is very special, especially to have it here at Pipeline," said Bryan. "The waves were firing this morning and they're still firing now, just a little bit smaller but it's still pumping. It's really fun and I'm just super happy to get a win here. Everyone was charging, the girls were just going for it. It's amazing, the level is just through the roof, I've never seen it like this."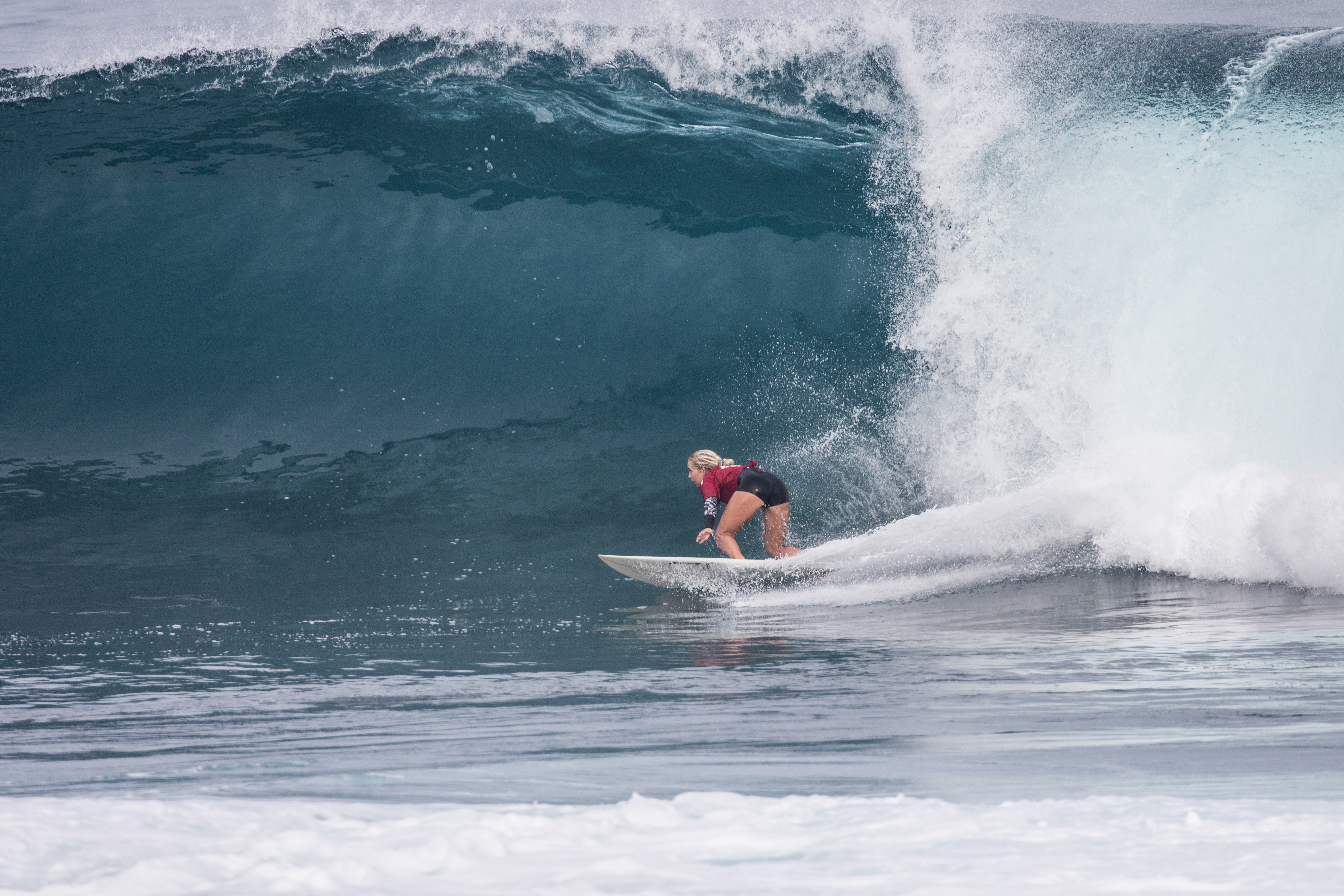 Bryan, 15, took a commanding lead in the Final after she knifed into a set wave with commitment and drive on a Backdoor right. She combined the ride with power turns to open the heat, but Moana Jones (HAW) – who earned runner-up – was quick to drop into a nice left to highlight her backhand and jumped ahead with a 6.15.
Sets lined up to provide excellent opportunities for the other two finalists, Savanna Stone (HAW)and Leila Riccobuano (HAW), but the best rides came from Bryan and Jones during the 30-minute heat. With five minutes on the clock, sets marched in and Bryan committed on a heavy wave that had beach goers holding their breath. After sticking a critically late drop, Bryan drove down the line and pulled into the barrel and despite it closing on her, judges awarded the wave a 7.0.
"I didn't have first priority, I think I actually had third, and the two goofy-footers had first and second so I knew that they were looking at the lefts," said Bryan. "The right at Backdoor just looked super good and I knew that I needed to pull in and hopefully make it and I pulled in and I made it pretty far. For a second I thought maybe I would make it out, but I got clipped at the end, but it was pretty cool."
Jones waited with priority after Bryan took the lead and needing only a 5.61 for the win, pulled into a Backdoor right and unleashed a series of maneuvers on her backhand. She earned a 5.55, just shy of the required score, and took runner-up.
In the men's Pipe Pro Junior, barrels pumped through the lineup and Pang opened up the exchange with an excellent 8.25 after blasting out of a classic Pipe barrel.
2017 Pipe Pro Junior winner and today's eventual runner-up Barron Mamiya (HAW) answered back with his own excellent ride, an 8.40, after fighting his way out of a long right-handed tube to overtake Pang. Third place finisher Kainehe Hunt (HAW) scored a 6.90 on his first wave for a Backdoor wave, but the heat was a back-and-forth battle between Pang and Mamiya.
"It was crazy, Barron's definitely my best friend and always surfing out here," said Pang. "Every time I paddle out here it's with him." Pang also mentioned that he draws inspiration from his friends, including Mamiya and other event standouts like Kalani Rivero (HAW), and Ryder Guest (HAW), and of course hometown hero and two-time World Champion John John Florence (HAW).
"The win feels unreal. I surf here every day, it's the only spot I surf if it's over 4ft.," Pang continued. "I'm always out here with all of my friends and it just feels amazing to finally win a contest. I'm inspired mainly by all my friends. And my dad, my mom and my coach Kid Peligro who I train ginastica with, have all helped me get here. It feels great."
Rapid-fire action kept fans on their toes throughout the men's pro junior Semifinals as Hawaii's best traded waves in the flawless conditions. Hunt and Mamiya took down Wyatt McHale (HAW), who had the regional junior lead heading into the event, while Pang and fourth-place finisher Malakai Martinez (CRI) also advanced into the Final after ousting reigning Junior World Champion Finn McGill (HAW).
The opening ride of the Men's first Quarterfinal was a perfect 10-point ride by Mamiya, for a proper 10ft., under-the-lip airdrop into a Backdoor barrel. His fierce attack set him apart from competitors as he demonstrated a world-class performance that many touted as Championship Tour (CT) level surfing.
Eli Hanneman (HAW), 15, earned the day's second perfect 10-point ride after threading three sections through a draining Backdoor tube and advanced behind Mamiya, but was eventually knocked out of the competition in the Semifinals.
In Quarterfinal 2 of the Wahine Pipe Pro, standout Keala Tomoda-Bannert (HAW) paddled into the best wave of the women's event, a 9.0 on her backhand, to validate the talent and commitment from Hawaii's up-and-coming wahine. With confidence and poise, the Kauai surfer dropped cleanly into a left-handed Pipe barrel and emerged with the spit to complete the ride and take the heat win.
However, after charging a solid 8-foot Backdoor wave later in the heat, Tomoda-Bannert collided with the reef and suffered a head injury that saw her transported to a nearby hospital. She was unable to claim her place in the Semifinals and returned home to rest and recover. The Kauai athlete ended with a seventh-place finish today following a runner-up result to Bryan two weeks ago in Tahiti at the Papara Pro Vahine Open.
This concludes the 2017/'18 competitive surf season for the WSL Hawaii/Tahiti Nui region and athletes will reconvene in October for a series of events once the North Shore reawakens from a summertime wave lull. In the meantime, regional surfers will travel to international locations to gain points and prize money on the QS, and fans can stay tuned to WorldSurfLeague.com to witness elite-level athleticism as CT surfers hunt for a World Title.
Results
Surfers listed in order of 1st through 4th, all surfers from Hawaii unless otherwise noted.
Men's Pipe Pro Junior Final
1st – Makana Pang, 14.00
2nd – Barron Mamiya, 10.50
3rd – Kainehe Hunt, 7.60
4th – Malakai Martinez (CRI), 6.75
Women's Wahine Pipe Pro Final
1st – Gabriela Bryan, 11.75
2nd – Moana Jones, 11.70
3rd – Savanna Stone, 9.15
4th – Leila Riccobuano, 6.85
Men's Semifinals, 1st and 2nd advance, 3rd = 5th place, 4th = 7th place
SF1: Kainehe Hunt, Barron Mamiya, Wyatt McHale, Eli Hanneman
SF2: Makana Pang, Malakai Martinez (CRI), Finn McGill, Kalani Rivero
Women's Semifinals, 1st and 2nd advance, 3rd = 5th place, 4th = 7th place
SF1: Gabriela Bryan, Moana Jones, Joniati Hansel (IDN), Keala Tomoda-Bannert – INJ
SF2: Leila Riccobuano, Savanna Stone, Puanani Johnson (IDN), Ariana Shewry (NZL)
Men's Quarterfinals, 1st and 2nd advance, 3rd = 9th place, 4th = 13th place
QF1: Barron Mamiya, Elijah Hanneman, Dylan Franzmann, Luke Swanson
QF2: Kainehe Hunt, Wyatt McHale, Daiki Matsunaga (JPN), Sage Burke (USA)
QF3: Makana Pang, Kalani Rivero, Ryder Guest, Hendrix Frankenreiter
QF4: Malakai Martinez (CRI), Finn McGill, Reef Tsutsui, Kyle Tester
Women's Quarterfinals, 1st and 2nd advance, 3rd = 9th place, 4th = 13th place
QF1: Gabriela Bryan, Joniati Hansel (IDN), Luana Coelho-Silva, Izzi Gomez (USA)
QF2: Keala Tomoda-Bannert, Moana Jones, Kelta O'Rourke, Gillian McKenzie
QF3: Savanna Stone, Puanani Johnson (IDN), Aloha Lopez, Summer Ivy
QF4: Ariana Shewry (NZL), Leila Riccobuano, Kahanu Delovio, Alexa Muss (USA) – NS
Women's Round 1 (Round of 20), 1st and 2nd advance, 3rd = 17th place, 4th = 19th place
H1: Aloha Lopez, Gillian McKenzie, Brooke Daigneault (USA)
H2: Izzi Gomez (USA) – automatically advancing, Kahanu Delovio – automatically advanced, Mathea Dempfle-Olin (CAN) – NS
The rights to any Content attached or accessed by link within this email are granted by the Association of Surfing Professionals LLC ("World Surf League") to you (the email recipient) and any entity you represent pursuant to the terms and conditions below ("Content License"). By opening or accessing the Content, you accept the terms of this Content License. The rights to the Content (or any part of it) are royalty-free and granted for editorial use or news service use only and this Content License will expire two (2) weeks from the date of this email. No rights for sale or for commercial use or modification of the Content are granted in any way, including any right to associate the Content or any subject or brand with a commercial brand or message. Rights to individuals within the Content are not provided. Where the Content is used in any way on digital platforms, a link to www.worldsurfleague.com must exist where the Content is visible. Where the Content is used in any way on social media, a link to @wsl must exist where the Content is visible.
The Content is provided, on an "as is" basis and no warranty is provided for its use by you. World Surf League owns all rights, including copyright to the Content. ALL RIGHTS NOT SPECIFICALLY PROVIDED ABOVE ARE RESERVED BY WORLD SURF LEAGUE.
---
About WSL
The World Surf League (WSL) is dedicated to celebrating the world's best surfing on the world's best waves through a variety of best-in-class audience platforms. The League, headquartered in Santa Monica, is a global sport with regional offices in Australasia, Africa, North America, South America, Hawaii, Japan and Europe.
The WSL has been championing the world's best surfing since 1976, annually running in excess of 180 global events across the Men's and Women's Championship Tours, the Big Wave Tour, Qualifying Series, Junior and Longboard Championships, as well as the WSL Big Wave Awards. The League possesses a deep appreciation for the sport's rich heritage while promoting progression, innovation and performance at the highest levels, and in doing so crowns the undisputed world champions in Men's, Women's across all divisions within the tour.
Showcasing the world's best surfing on its digital platform at WorldSurfLeague.com as well as the free WSL app, the WSL has a passionate global fan base with millions tuning in to see world-class athletes like Tyler Wright, John John Florence, Paige Alms, Kai Lenny, Taylor Jensen, Honolua Blomfield, Mick Fanning, Stephanie Gilmore, Kelly Slater, Carissa Moore, Gabriel Medina, Courtney Conlogue and more battle on the most unpredictable and dynamic field of play of any sport in the world.
For more information, please visit WorldSurfLeague.com