Carnage, drama, 24 of the world's best big wave surfers, 40-50 foot Pe'ahi waves and all of it live!
Essentially everything about the World Surf League's 2015 Pe'ahi Challenge at Maui's famed break was unprecedented. Indeed, it was the first time such a contest was held at Jaws. And thanks to the computer wizards of today, it was also the first time an audience could tune into such heroics in real time.
Also unprecedented was the swell: multiple commentators noted that the size pushed the line between paddling and towing in.
And how fitting it was that Maui's own Billy Kemper would be the first to take home the winning trophy. The Ho'okipa native with a smooth face, bright eyes and remarkable smile had nerves and legs of steel, locking into one high scoring ride after another throughout the duration of the event. His mindset, his plan, his rhythm and his good looks continued into the much anticipated final against Albee Layer, Greg Long, Ian Walsh, Gabriel Villaran, and Shane Dorian.
It was Billy that swung for the fence first in the final, maintaining his balance while streaking down a deadly and towering Jaws wave that earned him an 8.00. After the 25-year-old backed it up with a 6.77, time became his biggest competition. When the hour long final concluded, Kemper and all his grit and fortitude and tenacity stood victorious!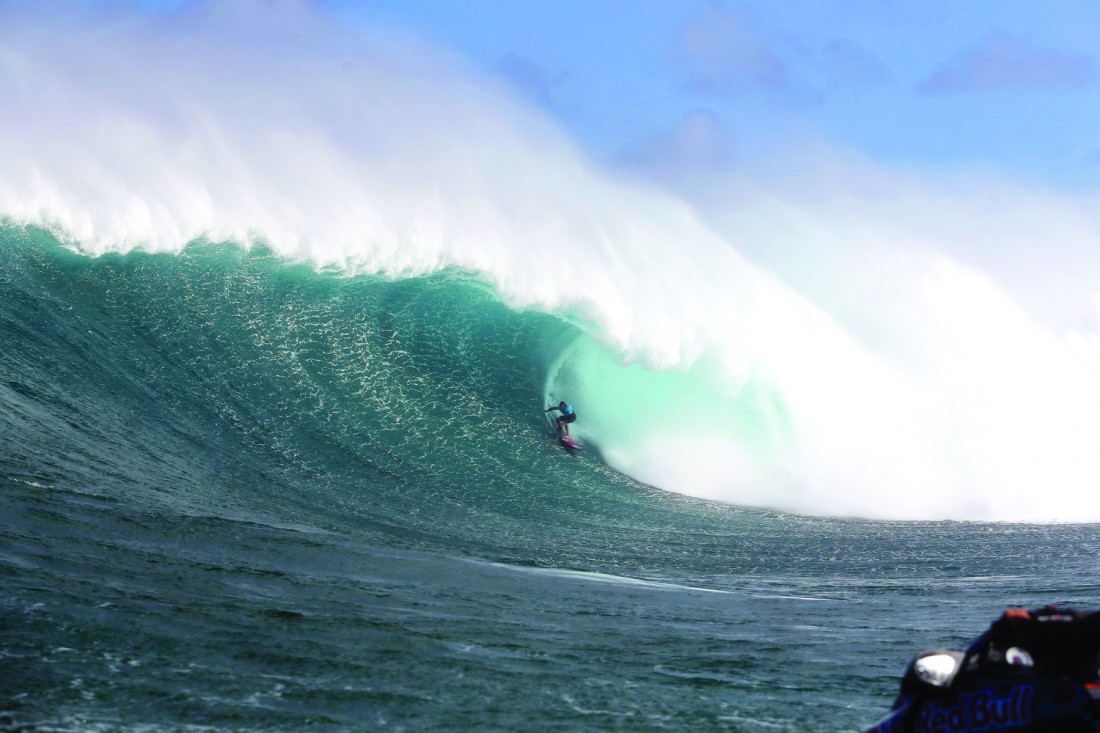 "This is a dream come true," Kemper said. "We've been talking about this moment
for years and to have a paddle event in my backyard at, to me, one of the most premier, outstanding waves in the world, means everything to me. I just want to dedicate to this my brother. To paddle Pe'ahi has been a dream of mine for a very long time and to be out there with some of my favorite surfers and best friend – I'm just speechless."
And speechless were the viewers of the contest, watching these fallible men in the form of tiny dots paddle into shifty and spooky swell the size of 4-5 story buildings. With wipeouts inevitable, water patrol and lifeguards were on alert from sunup to sundown, tasked with plucking surfers from the avalanche of whitewash and being the last line of defense between the athlete and the ultimate, watery price.
Another notable standout from the event and its unprecedented glory included Hawaii's Albee Layer, who came in second to Kemper while riding the shortest board of the competition: an 8'8".
"I was just trying not to psych myself out so I hung out with a lot of friends," Layer said. "My shaper, Sean Ordonez, just keeps going smaller and smaller with my boards and it keeps working better and better for me. I'm just really trying to get in the barrel – I'm not trying to get the biggest wave. That's the wave I'm always looking for – the barrel. They're a little harder to find but eventually you'll get one."
California's Greg Long, undoubtedly a legend in the big wave arena, came in third overall at the inaugural event behind Kemper and Layer. Long also scored a 9.00 – the highest scoring wave of the day – by disappearing into a behemoth of a foamy barrel. "It was probably one of, if not the best waves of my life even though I didn't make it," Long said of the wave. "It's been a dream of mine to catch one of these barrels and to see that vision. It's the perfect direction to do it and get the waves from way out the back. Paddling in it looks impossible to make it all the way to the channel but then you get around that first section coming from behind and you're set. I was lucky in that heat with the wind settling down a bit and a couple multiple wave sets to clean it up and then that wave came through – just was out the back and got the greenlight to catch it."
Maui's Ian Walsh, fresh off his 2015 HIC Pro victory at Sunset Beach, had one of the heaviest wipeouts of the day, but like a true gladiator draped in red and gold, the 32-year-old didn't let it rattle his mettle. "There was just a chandelier coming down and it hit my back shoulder and feel like I didn't penetrate the water at all – just started spinning on the face then a long drop over the falls," Walsh said. "It takes a lot longer than normal days of surfing when you go over the falls here, so you have a lot of time to think about your mistake. Then it's really violent, everything is flying everywhere and you're trying to feel the tension on your leash to make sure the board is not close to you. Just a lot going on – but you're really just focused on holding your breath and trying to get back to the surface."
Getting back to the surface is exactly what Walsh and every other contestant did, which according to Kemper, is the most important takeaway from the first ever Jaws event.
"We passed the word talking out there and I told the boys we can always surf another big day at Jaws but we can never replace each other," Kemper said. "The main thing is at the end of the day to come back our families. I'm there for everyone and they're all there for me. It's a feeling you can't reproduce or explain it to people. Just a feeling of breaking through a fear factor where it's all adrenaline. I'm over the moon – I'm just happy to be sitting here doing this interview."
PE'AHI CHALLENGE FINAL RESULTS:
1 – Billy Kemper (HAW) 22.77
2 – Albee Layer (HAW) 19.33
3 – Greg Long (USA) 16.26
4 – Ian Walsh (HAW) 1.00
5 – Gabriel Villaran (PER) 0.80
6 – Shane Dorian (HAW) 0.00
2015 WSL BIG WAVE TOUR TOP 5 (after two events):
Billy Kemper (HAW) 15,625
Makuakai Rothman (HAW) 13,156
Albee Layer (HAW) 13,020
Greg Long (USA) 10,850
Nic Lamb (USA) 10,565