By Lauren Rolland
Walk along any one of Hawaii's beaches and you'll likely find a variety of rubbish that has collected amongst the shells and vegetation line in the sand. Look closer and you'll notice that the trash consists mostly of one material… plastic. This reality hits home for a lot of Hawaii residents. It's sad to think of these beautiful beaches becoming tainted with trash. 
The reality is that plastic consumption has exponentially increased every year. A serious issue not only for the health of our marine life, but also ours as well, the amount of plastic making its way into nature is dire. The good news is that through recognition of this problem, an awakening is happening.
Every year since 1970, Earth Day is celebrated and recognized on April 22nd. It all began with the 1969 oil spill that happened in Santa Barbara, California, which was at that point the worst oil spill in our nation's history. Many people were witness to the ravages from the spill, and it's known to have been the spark that finally brought the environment to the nation's attention.
Gaylord Nelson, U.S. Senator from Wisconsin is credited as the 'Father of Earth Day'. In 1969 he was motivated by the spill but inspired by something different. The idea emerged in the midst of the Vietnam War, when students nationwide were in protest and the hippie culture was at its height. Nelson realized that if he could infuse that energy with an emerging public consciousness about air and water pollution, it would force environmental protection onto the national political agenda (earthday.org).
In 1969, Congress passed the National Environmental Policy Act. Today, Earth Day is a national holiday that demonstrates environmental stewardship and celebrates progress for environmental change. One of the largest demonstrations happening in Hawaii this year is Sustainable Coastlines Hawaii's Mauka to Makai event.
Taking place at Oahu's Kualoa Ranch on April 19th, The Mauka to Makai event has been strategically developed by the members and volunteers of Sustainable Coastlines Hawaii. A nonprofit organization that promotes large-scale beach cleanups around Hawaii, Sustainable Coastlines was launched in 2011 and is spearheaded by Kahi Pacarro. With a background in project management and a passion for surfing, Kahi focuses the organization's energy on clean beaches and inspiring coastal stewardship.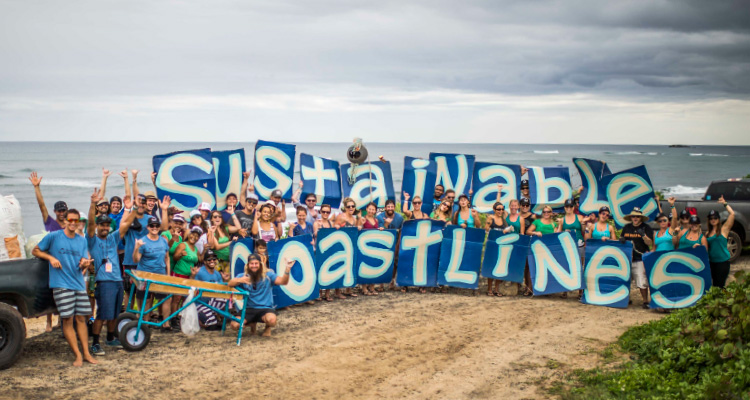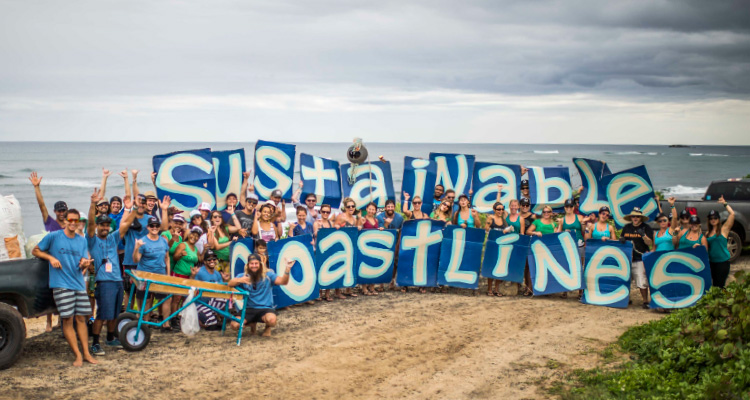 With a Hawaiian ahupua'a theme, the cleanup, education and activities of the Mauka to Makai event begin at the very top of the land division. The day kicks off with native planting of endemic Hawaiian plants. Papahana Kuaola, the organization that's supporting this activity, works to connect the area's past with a sustainable future and teaches this through environmental restoration.
Next, volunteers can work with Kako'o 'Oiwi, the community nonprofit organization that takes care of the lo'i by planting taro and tending to the wetlands. Sustainable farming and cultural stewardship are vital to the health of Hawaii, both the land and its people. Further down the ahupua'a, streams and rivers feed the ocean and it's essential we take care of these fresh water sources. Hui o Ko`olaupoko will help direct the stream restoration activity and educate participants on the importance of watershed health for the protection of ocean resources.
Following this is the beach cleanup, which takes place along the coastline. At last year's Mauka to Makai event, fourteen different beaches (between Sandys and Kaneohe Marine Base) were scoured for rubbish, with a total of 4,500 lbs. of trash collected and 780 lbs. recycled. Lastly, at the very bottom of the ahupua'a are the fishponds. Paepae o He'eia is a private nonprofit organization that maintains the largest fishpond in the state, the He'eia Fishpond. This example of Hawaii aquaculture will show participants the importance of cultural sustainability and caring for the land.
As Executive Director, Kahi says that the purpose of this Earth Day event is to show the participants that clean beaches start higher up in the ahupua'a, not just at the beaches that we all enjoy here in Hawaii. Sustainable Coastlines Hawaii is invested in inspiring local communities to care for their coastlines through hands-on beach cleanups. At the same time, Kahi explains that this mission is to help perpetuate an even greater one. "The goal is to show that clean beaches isn't necessarily a result of cleaning them, it's the result of your consumer behaviors and the choices you make away from the beach."
There is momentum growing, and more and more we're seeing consumers having an impact on products and packaging, forcing producers to make responsible choices to help, not hurt, the environment.
One example of this is with 'Beat the Microbead', an international campaign against microbeads in cosmetics. Tiny particles of plastic, known as microbeads, have found their way into personal care products like face wash and body scrubs, replacing natural exfoliating materials like crushed pearls or shells with plastic. Because of their small size, microbeads are being passed along the food chain, beginning with the smaller fish of the sea and working their way up.
Since the campaign's launch, companies like Johnson & Johnson, The Body Shop and L'Oréal have vowed to stop using microbeads. This proves that raising consumer awareness has a direct impact on improving product development. (Check out the free app, Beat the Microbead, which labels the products that contain microbeads so you can know before you buy). Another noteworthy brand is Method, the cleaning supplies company that pioneered the use of 100% post consumer plastic for their product packaging.
Method has recently released a dish and hand soap product whose bottle is made with a blend of recovered ocean plastic and post-consumer recycled plastic. The world's first, you might be surprised to know that a big portion of the ocean plastic used in these bottles comes straight from Oahu's eastern coastline, from Kahuku to Makapu'u. Method has partnered with Sustainable Coastlines Hawaii to collect and repurpose the plastic along these beaches. By reusing the plastics that are already on the planet, Method and Sustainable Coastlines Hawaii believe it will have an influence on changing people's mind about their role in protecting our oceans.
"It takes a paradigm shift of recognizing that we need to do a better job with our consumer behaviors to have an impact," Kahi illustrates. "Cleaning beaches is not what's going to solve the problem. It's the choices we make in our everyday life, taking the stance to be more conscious of our surroundings and recognizing the need to preserve nature. We are being numbed and conditioned in society, but we hope that bringing people to the coastline to help care for them will help awaken, inspire or reinvigorate our communities to show them that they can make a difference."
Whether that's swapping out plastic water bottles for a reusable one or growing a garden in your backyard, there are small steps we all can take to reduce our plastic use, promote sustainability and ultimately keep our bodies clean and healthy.
Kahi explains the hope for the Mauka to Makai event. "The first step is participating. Education follows through hands-on work within the ahupua'a. Following up the work with a venue where people can see first hand that plastic reduction can be fun and easy allows people to see that caring for the earth can be done with their wallets." The common theme for Earth Day is 'every day is Earth Day'.
So this Earth Day, take a step in the right direction. One change or conscious shift toward the environment can make the difference. Kahi adds one final thought: "Everyday purchases toward sustainable, organic and healthy products show your love for the earth every day."
For news and updates on beach cleanups and events, or for more information about caring for the coastline, follow Sustainable Coastlines Hawaii on Instagram or check out their website. @sustainablecoastlineshawaii / www.sustainablecoastlineshawaii.org.
pau