GREGG 'DOUBLE G' NAKAMURA
By Lauren Rolland
Photos: Keoki
How many years surfing? I started boogie boarding when I was 6, surfing when I was about 10. I'm 35 years old now, so I've been surfing for 25 years. Hometown: I grew up in Kaimuki. Favorite surfer? Dane Reynolds and John John are my top two for sure.
Favorite wave: Definitely Bowls.
My interview with Gregg Nakamura inadvertently began in the harbor parking lot at Ala Moana Bowls. We were on a different assignment that morning, but planning to met up with Gregg at his high rise office later that afternoon. After lucking out on a parking space, unloading the gear and getting set up for our first interview, up walks Gregg, dripping wet, board in hand. I didn't assume we'd see the civil engineer until noon.
"Did you surf already?" It was only 8am.
"Yeah, I like to get my sessions in early," Gregg laughs, stoked and energetic. "I stayed out hoping to catch one more good one, now I'm gonna be late for work!" He hurries off, still smiling.
At 11am, we take the elevator up to the 16th floor of the building on Bishop and South King Street to meet Gregg for the scheduled interview. This time he greets us in black slacks, shined shoes and
a green aloha shirt. It's a total transformation. From townie surfer to professional businessman, it was this moment I realized Gregg displays the art of balance. Despite now being in a bustling office, the same genuinely stoked smile Gregg radiated after his session at Bowls was still alive and well.
Gregg Nakamura a.k.a. Double G is a professional engineer for AECOM, a private firm that ranks in the Fortune 500 and is the # 1 engineering design firm (based on revenue) in the world. Gregg is among 200 people working in the Hawai'i office and of 100,000 global employees for AECOM. The Kaimuki boy just made 11 years this summer at the megacorp.
On the flipside, Gregg is a hard core surfer that competes regularly in events like the Local Motion Surf into Summer, HIC Sunset Pro and Vans Triple Crown of Surfing. In 2010, Double G entered the 1-star QS Sponsor Me Hawai'i event at Bowls with a paid entry by his sponsor and made it to the quarters. "I made a few heats and thought, 'I I can do this,'" says Gregg. "It was pretty fun and I made some money."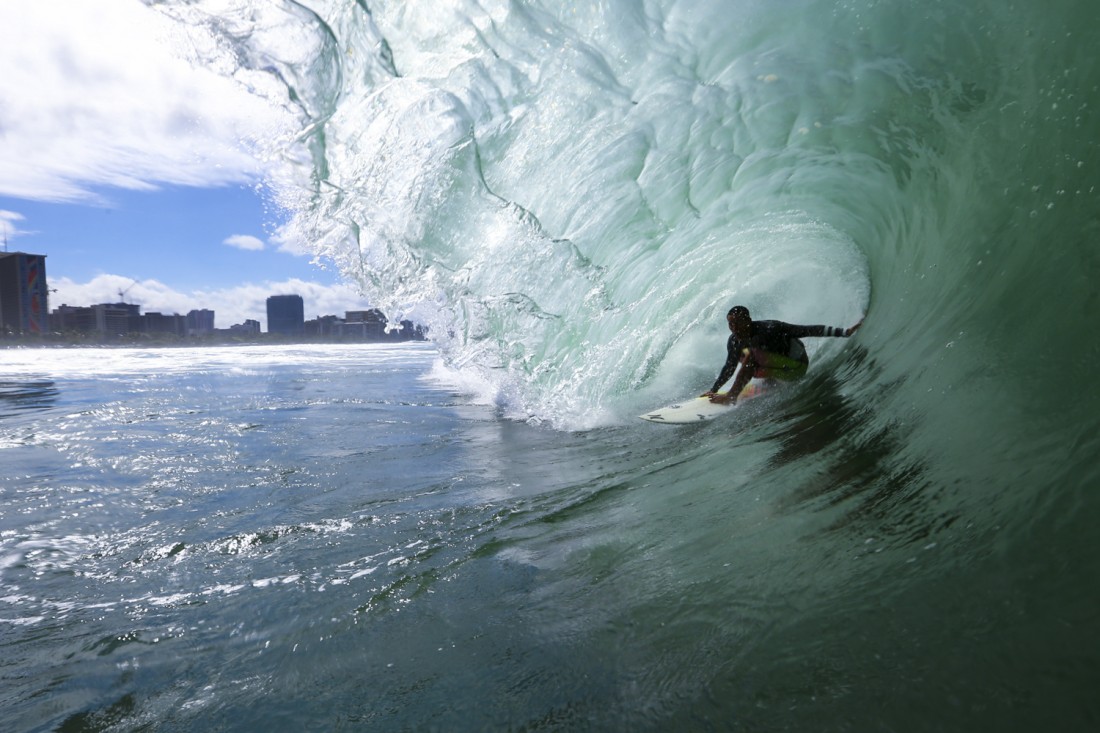 Garnering enough points to get into the HIC Sunset Pro, the execusurfer went on to make the quarters in that event as well, marking two of his best results to date. Then in 2012, Gregg
got third place in the HIC Sunset Pro at Sunset, next to Granger Larsen and Sunny Garcia. "I never thought I'd be on a podium for a professional event," Gregg says. "Just standing up there with Sunny and all those guys, and getting to hold up the big check, that was definitely a dream come true." That same year, the surfer got into the Triple Crown and surfed in the Reef Hawaiian Pro at Haleiwa and the Sunset World Cup with all the top pros. "I surfed with the guys that I look up to," Double G continues. "Even though I didn't do well, it was still something I just never imagined I could do. That was my biggest accomplishment for sure."
While the 35-year-old could have taken the professional path at an earlier age, he came to a crossroad in his late teens where education seemed like the right choice. Throughout college at Cal Poly, Gregg continued to surf in between studying, never losing his competitive passion. It seems this lifestyle – dedication, discipline and focus – eventually led to the impressive results Gregg now accumulates as an adult, both in the surfing and business realm. Plus he's a family man too!
What are your hobbies besides surfing?
I have two girls so my main hobby is hanging out with the family; going to the beach, taking them surfing. Every now and then, maybe once or twice a year I'll get out on the golf course and hack it up with my buddies. I like to play guitar too. At this point in my life, my hobbies are mostly focused around the girls, so watching them do gymnastics or swimming at the beach, whatever it may be I like just hanging out with them.
What are your plans for competing this season?
I just did the Surf Into Summer… I think I got enough points to get into the HIC Sunset so I'll plan on doing that. The biggest goal for me is step one, get into the HIC Pro, step two, do well enough to qualify for the Triple Crown, and then step three to make a heat in the Triple Crown. It's just baby steps, but that's what I'm shooting for this year. I really want to thank Tokoro Surfboards, Monstah Glass, Vertra, Ronin Eyewear, Cyko Surf and Hurley for always supporting me!
Do you consider yourself naturally competitive? 
Yeah, definitely. Growing up I did all the HASA's and then in California the NSSA's, Nationals and all that. It was always just kind of fun for me, up until college when I started having to pay my big entry fees for the pro events, then it didn't become fun and so I lost interest. But I think now that I have a career, I'm not surfing to prove anything to anyone but myself and I just do it because it's fun and I love it. It's definitely a part of me.
Proudest accomplishment as a professional engineer?
That's a tough one. Because with my profession it takes a while from the completion of design till you see the project actually constructed. I started out designing cesspools on the Big Island, and that's not
the proudest thing, kind of a crappy job. But I think one of the bigger projects was the command center at Fort Shafter. They're almost finished with the construction of the first phase. That's probably one of the biggest projects I've worked on so that's pretty cool to see. Now I'm going into more of the management role, so getting projects completed with my team, seeing everyone work well together and everything go smoothly, getting the job done on time and on budget, that's pretty rewarding too.
Talk about your experience of balancing school and surfing.
I made sure I got all my school work done first. It actually motivated me to try harder to get what I needed to get done so I could have time to surf. That's kind of how it is now. If I surf in the morning, then I get to work, (maybe I'm a little late), and just bang out as much as I can, get it done so I have more time to surf. I've always kept the balance between work and surfing.
Words of wisdom for maintaining a work/life balance?
Finding a job that you like and a boss that understands the importance of work/life balance is key. My number one supporters are my wife and kids though. They let me dawn patrol when I want to so I don't get grouchy!
It also takes hard work and dedication both at home and at your job. Making the most of each day to spend time with the family and also putting your nose to the grindstone when at work is what it takes… being efficient to make the most of the hours spent in the office. A motto I like to use is, "you can sleep when you're dead."