By Kiva Rivers
Over the last few years, Maui has ascended into the limelight more than ever before. The Valley Isle has its first ever WSL surfer on tour, is regularly showcasing incredible free surfing talents and has bred some of the world's best big wave surfers. Nowadays, it should come at no surprise that the island of Maui is producing big players that are here to stay.
The talented and beautiful Aloha Lopez is among these hybrid Maui surfers. Raised in Kahana on the west side, Aloha has been able to surf the fun and challenging waves that Maui offers – and is notorious for – on any given day.
At just sixteen years old, Ms. Lopez is already making a mark as a surfer with style, power and competitive edge. Whether Aloha is in the barrel at her favorite wave, on a SUP, or just having fun with friends hanging ten on her longboard, you can be sure that this wahine is always wearing a smile and a positive attitude, both in and out of the water.
DOB: 4/2/99
School/Grade: James Madison High School / Junior
Hometown: Kahana, Maui
Home break: Honolua Bay
Favorite board: 5'10" Stalk It. I ride the Aloha model shaped by Matt Kinoshita.
Favorite Instagram: @Benjibrand has been posting some really cool pictures lately. Check out @allaloha to see my feed.
How did you get into surfing and how long have you been surfing for?
Both of my parents surf. They started taking me and my brother to
the beach as soon as we were born. I would ride on the front of their boards and by the time I was four, I started surfing by myself. We moved to Northern California in 2005 and I would only surf two or three times a year at a little break in Bolinas. Finally, we moved back to Maui in 2010, I started surfing everyday.
What do you enjoy most about being in the ocean?
I enjoy how the ocean changes all the time. In the morning you can be in the line up with your friends waiting for the swell to arrive and later that afternoon be surfing amazing waves. The changing ocean inspires me to be creative.
Freesurfing versus competition, which do you enjoy most and why?
I like freesurfing because you can have fun with your friends and mess around, but I really love competitive surfing. Competitive surfing pushes me to test my limits. Getting to surf great breaks with just a couple other people is priceless. I mean how often do you get to surf a place like Honolua Bay with just a couple of other people?
What surfers inspire you the most in and out of the water?
Stephanie Gilmore is one of my favorite surfers. Her surfing is so graceful yet powerful. She surfs with so much style. I am impressed at how humble she seems even though she has won many world titles. Steph is always smiling.
What other hobbies do you enjoy besides surfing?
Lately, I have been spending a lot of time on my longboard skateboard. When there are no waves, I will take my SUP out and explore the coast. I absolutely love to dance and am passionate about healthy eating and living.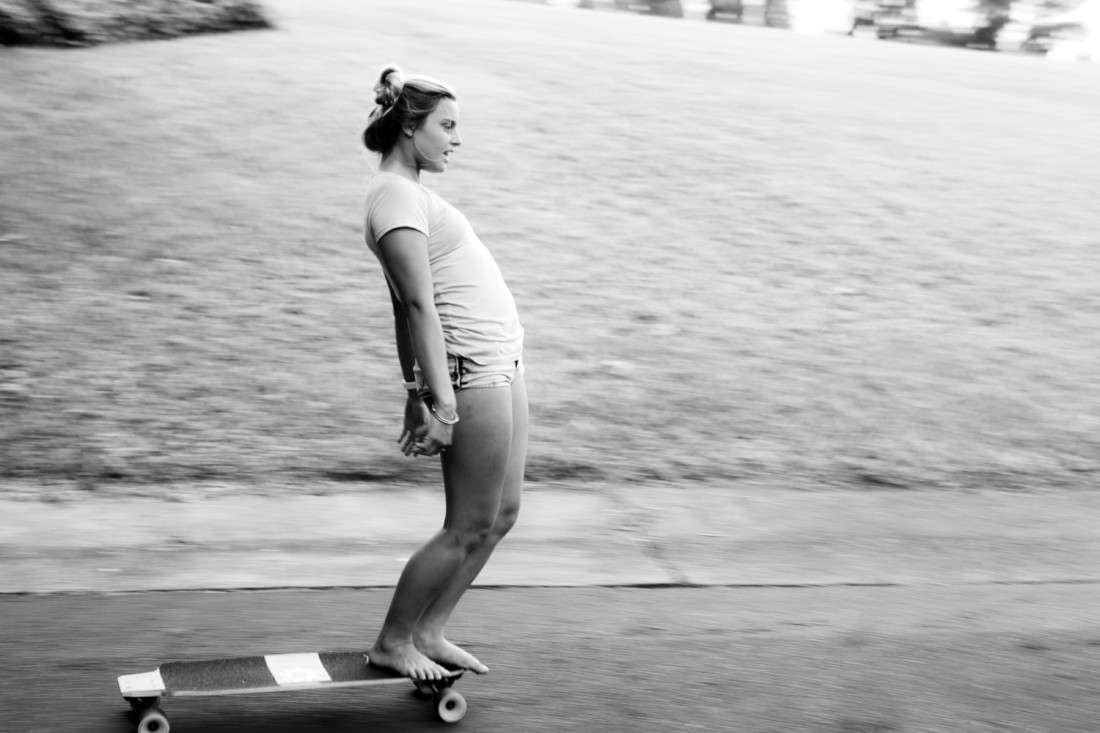 Do you enjoy surfing bigger or smaller waves? Where have you ridden some of your biggest waves to date?
Nothing is better than a big swell. I live across the street from the beach and when a big swell rolls in at night it will wake me up. I will lie in bed waiting for the sun to peak over the mountains so I can go surf. The fun thing about really big swells on Maui is that it makes places break that you would not see on a regular size swell. Last winter, I surfed amazing waves at unexpected places around the island. When the mysto breaks start to fire, I get really excited.
Some of the bigger waves I have ridden have been at Sunset Beach, Honolua Bay and Ho'okipa.
Where have you traveled for surf?
I love traveling and surfing. I have surfed throughout Hawai'i, Mexico and California. I am looking forward to exploring the world and surfing best breaks with my friends.
Dream travel destination?
Some places I hope to visit soon are Fiji and Australia.
Where is your favorite wave to surf on Maui and off Maui?
The Cave at Honolua Bay is my favorite Maui break and La Bamba in Mexico is my favorite off island break.
Where do you hope to see yourself in 5 years from now?
Five years from now, I hope to be competing on the World Tour. I have a lot of work to do, but that is my goal.
What surfing maneuvers are you trying to learn and complete in the near future?
Last winter, I was working on pulling into big barrels going backside. I took some serious beatings on the reef but will keep trying again this year. I have also been working on doing an air. I have landed a few, but I would like to do it on a consistent basis.
How would you describe your surfing style and approach?
I haven't really thought about it much. Some people have called my surfing powerful, some stylish, some progressive.
What are a few of your biggest surfing accomplishments to date?
Legends of the Bay Open Women Champion 2015 – Honolua Bay, Maui. The Maui Interscholastic League (MIL) Women's Surf Champion 2014. Coco Nogales Surf Challenge Open Women Champion – Playa Zicatela, Puerto Escondido, Mexico.
Pau